Renee Poussaint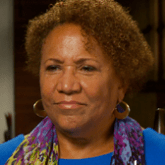 Renee Poussaint
Adjunct Lecturer
Renee Poussaint is a former network correspondent for both CBS and ABC. She is the recipient of three national Emmy awards for her work on ABC's PrimeTime Live for reporting, writing and interviewing.
She has done more than 100 in-depth interviews with icons from the political, entertainment and educational worlds. Poussaint has reported from hotspots around the world, including Haiti, South Africa and Uganda, has faced armed overseers at a southern immigrant labor camp and hostile bikers at a bar in Ku Klux Klan territory.
Poussaint is the coeditor of the book (with Camille Cosby), "A Wealth of Wisdom: Extraordinary African American Elders Speak." The book made it on to the New York Times bestseller list and included anecdotes (both serious and humorous) from interviews of Ossie Davis and Ruby Dee, Maya Angelou, Coretta Scott King and Sidney Poitier, among others.
Poussaint is also the creator of the documentary filmmaking company Wisdom Works. Among her productions is the acclaimed documentary "Tutu and Franklin: A Journey Towards Peace."
Contact
B.A., Sarah Lawrence College
M.A., UCLA
Graduate Multimedia Journalism Certificate, University of Maryland