The Shirley Povich Center for Sports Journalism at the University of Maryland Philip Merrill College of Journalism presents its 16th Annual Povich Symposium, which will center on groundbreaking former baseball player Curt Flood approaching the 50th anniversary of Flood v. Kuhn. The landmark Supreme Court case eventually opened the door to free agency in professional sports. 
​​The program will be held virtually on Nov. 16 from 7-8:30 p.m., and will consist of two conversations -- "then" and "now" panels.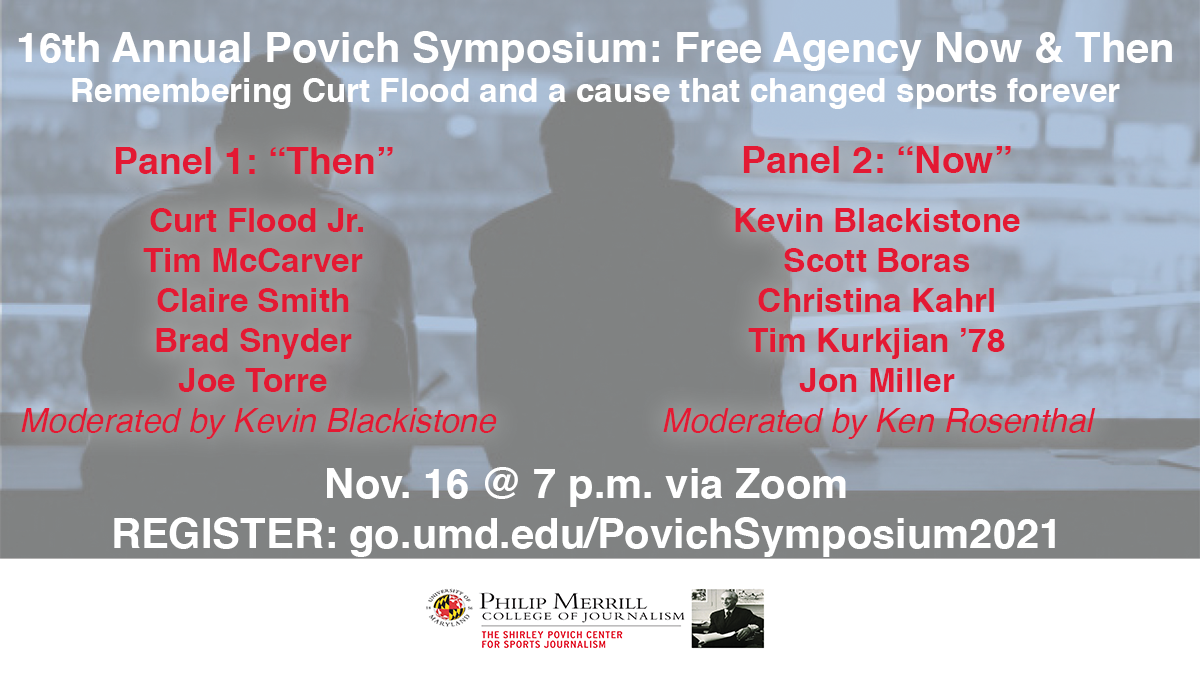 The "then" panel will explore why Flood's fight for free agency was not embraced by players and media at the time. The panel will feature Curt Flood Jr., Curt Flood's son; Tim McCarver, broadcaster of 16 World Series and teammate of Curt Flood; Claire Smith, Hall of Fame baseball journalist and co-director of Temple University's Claire Smith Center for Sports Media; Brad Snyder, Georgetown University professor of law and author of "A Well-Paid Slave: Curt Flood's Fight for Free Agency in Professional Sports"; and Joe Torre, Hall of Fame manager and teammate of Curt Flood. Merrill College Professor of the Practice Kevin Blackistone, a Washington Post sports columnist, will moderate the discussion.
The "now" panel will consider the state of free agency today and in the future. This discussion will feature Blackistone; Scott Boras, leading sports agent and owner/founder of the Boras Corporation; Christina Kahrl, San Francisco Chronicle sports editor; Tim Kurkjian '78, ESPN baseball analyst; and Jon Miller, Hall of Famer and San Francisco Giants broadcaster. Ken Rosenthal, Fox Sports reporter and The Athletic senior baseball writer, will moderate.
"Curt Flood is one of the most transformative figures in sports history. His fight for free agency changed the power dynamic in sports forever," said Povich Center director Mark Hyman, the inaugural George Solomon Chair in Sports Journalism at Merrill College. "On a historic anniversary, we're pleased to bring together a group of the most celebrated baseball journalists, broadcasters, players and player agents to remember him and to consider the present and future of free agency."
Due to the COVID-19 pandemic, the Povich Symposium will be held virtually. The event is free and open to the public, but registration is required: go.umd.edu/PovichSymposium2021
For more information, contact Kaitlyn Wilson, assistant director, Shirley Povich Center for Sports Journalism: kcwilson@umd.edu; 301-405-4605.
About The Shirley Povich Center for Sports Journalism: 
The Shirley Povich Center for Sports Journalism prepares students to be innovators and leaders in all facets of sports media. The center's unique, experiential curriculum and public programs elevate and amplify discussion of race, gender, politics and the world -- just as Shirley Povich did each morning in The Washington Post.