UMTV
The Richard Eaton Broadcast Center at the University of Maryland is home to UMTV and the Capital News Service (CNS) Broadcast Bureau. It is also used by many broadcast classes at Merrill College.
Located in Tawes Hall, the facilities were named in honor of broadcasting pioneer Richard Eaton by University President C.D. Mote Jr. at ceremonies on May 1, 2000. The current Eaton Broadcast Chair is Professor Mark Feldstein.
Watching UMTV
UMTV is on campus Channel 38 or 78. Xfinity customers can watch on Channel 73 in Prince George's County and on Channel 2 in Montgomery County. On Verizon, UMTV is on Channel 40 in both counties.
UMTV Services
UMTV has the ability to produce 1-3 camera-switched feeds of your campus event at reasonable cost. Studio A in Tawes Hall is available for reasonably priced interviews or productions. The station also has audio booths that can record tracks, podcasts and more. Please contact chief engineer Bill Parker for more information and pricing.
UMTV can provide faculty with a live talkback capability with media via a fiberline to the Verizon AVOC switch in Washington, D.C.
The station offers free broadcast of PowerPoint slides to promote campus events. Please see the FAQ below for more information.
UMTV is offering to promote campus events for free. All it takes is a PowerPoint slide. UMTV is the University of Maryland's cable TV station operated by the Philip Merrill College of Journalism and is seen on campus and in Prince George's and Montgomery Counties.
UMTV Chief Engineer Bill Parker says communicators or units across campus can send prepared 16x9 PowerPoint slides to him at the station with start and stop dates. The station is asking for a two-week lead time in order to ensure the announcement can be inserted into the program schedule. There are no guaranteed time slots, but there will be an effort to have the slide run during different times of the day.
FAQ – UMTV promotion of events
What formatting for our PowerPoint slide do you need? We are now asking for a PowerPoint slide formatted to 16x9. Just remember that lots of words are hard to read on a TV screen. Keep the slide simple with basic information about your event. Please use go.umd.edu to create short, memorable URLs.
Is it really free? Yes! This is a service UMTV is happy to provide to campus.
How do we get the slide to you? Email is best. You can send more than one for run of schedule if you'd like.
What about dates? Just tell us when you want the slide to start running and when it should end. We can program that into our system. Be sure to include contact information in case we have any questions.
Why a two-week lead time? We simply need the time to make sure we can load and program your slide into the UMTV system.
Who is the best person to contact about running our event slides? UMTV Chief Engineer Bill Parker is prepared to help you and answer any questions.
Where can we see UMTV? UMTV is now on campus channel 38 or 78. Xfinity customers can watch on Channel 73 in Prince George's County and on Channel 2 in Montgomery County. On Verizon, UMTV is on channel 40 in both counties.
The Richard Eaton Foundation
The Richard Eaton Foundation provided $2 million dollars in gifts in 1996 and 1999 not only to support UMTV but also to establish a Richard Eaton Chair in Broadcast Journalism. The first Eaton Chair – established in 1996 – was Dr. Lee Thornton, who was a former Howard University journalism professor, senior producer at CNN and CBS News White House correspondent. When Thornton retired from Merrill College in 2011, she was replaced by former investigative reporter Mark Feldstein, who worked at NBC, CNN, ABC and a number of local stations including WUSA9 in Washington, D.C.
The broadcast center named in Eaton's honor includes a modern newsroom and news studio where journalism students get hands-on experience producing live newscasts three days a week, as well as UMTV studio space. In 2015, Merrill College upgraded the equipment and capabilities in the Eaton Broadcast Center (Studio B) to allow for streaming newscasts on YouTube in HD. In 2020, Studio A was upgraded to serve as the main home for for Capital News Service student broadcasts.
About Richard Eaton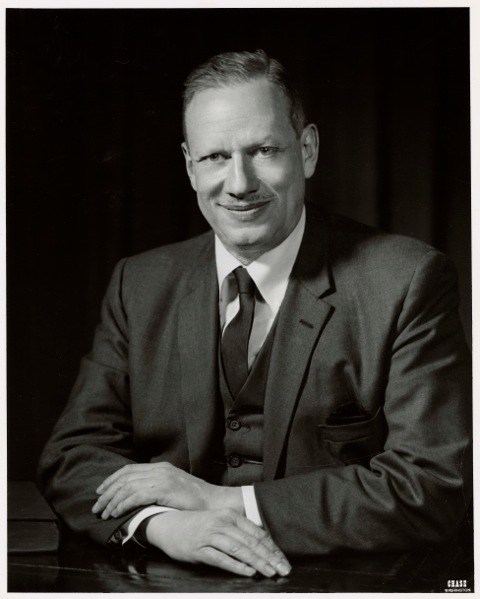 Richard Eaton was chairman of United Broadcasting Co., which owned and operated 17 radio stations.
He pioneered black-oriented radio programming in the United States by establishing WOOK in Silver Spring in 1947. He also operated the first Cuban-oriented radio station in Miami and the first Japanese-language TV station in Honolulu.
Before launching United Broadcasting, Eaton was a weekly newspaper publisher, a radio news commentator for WINX in Washington, D.C., and a reporter for the Mutual Broadcasting radio network. He died in 1981.
"Richard Eaton played an extraordinarily important role in the early years of broadcasting," then-Dean Reese Cleghorn said when the funding plan was approved in 1999. "And with this generous gift from his foundation, his legacy will continue to help shape the industry by providing support to its future leaders."
Cleghorn praised Gerald Hroblak, president of the Eaton Foundation and then a member of the college's Board of Visitors. Hroblak, a business administration and economics graduate of the University of Maryland's University College, played a critical role in both gifts.
"With the help, guidance and support of Jerry and the foundation, we are confident that we will be able to make our broadcast news journalism division the best in the nation," Cleghorn said.
Use The Studio
Each student desiring to use Studio B/UMTV/Tawes Hall must read and sign this form. Only students who sign the form may be part of the approved Studio B production.
It is highly recommended that faculty, students and other users familiarize themselves with the various video production processes and systems in the Journalism Television Facilities. An excellent source for this is the Cyber College Online FREE Text Book:
UMTV staff will assist when questions arise concerning systems and/or production equipment operations.
Tutorials, individually or in groups, are available upon request and practice time on the various systems can be scheduled when the facility is not in use for classes.
Every individual who intends to be in the studio must fill out the Studio B Usage application (found here in the forms section) and sign this form.
Before being approved, the group's representatives must meet with one of the UMTV engineers for an orientation and appropriate training. Instructions for appropriate use of the room will be provided.
After the orientation, the associate dean for academic affairs will have the final say on the approval of the application.
Supervision by a person designated by the associate dean or the engineers is required at all times. Exceptions must be approved by the engineers.
At least one Journalism major must be present anytime a group is using the studio, unless approved by the associate dean or an engineer.
Studio B is available by reservation only through the engineer. It can be reserved in 2-hour blocks, unless approved by the engineers.
Studio B must be left as it was found and in accordance with the instructions of the engineers. Any deviation from this policy may result in immediate revocation of privileges.
Any equipment modifications or equipment setting changes must be approved and performed by or under the supervision of the engineers. This includes moving or adjusting lights and sets. If an organization or class or individual has modified any settings, moved equipment, etc., without proper approval, they will be banned from future use of the studio.
The equipment in Studio B is the property of the Philip Merrill College of Journalism. You are financially responsible for missing or broken equipment.
Any illegal activity will be cause for immediate revocation of studio privileges and will be reported to campus police.
Use of Studio B is intended for journalism students producing journalistic products or other journalistic work. Commercial work, whether for campus groups or outside entities is strictly forbidden unless expressly permitted by the associate dean.
Student groups using Studio B agree to abide by the standards of the Code of Ethics of the Society of Professional Journalists (https://www.spj.org/ethicscode.asp).
Any action that results in a student disciplinary action or honor code violation will result in immediate loss of privileges.
Permission to use Studio B may be revoked at any time by the associate dean.
The College of Journalism and the University of Maryland are not responsible for the conduct of students during news-gathering or other content collection, nor are they responsible for the content produced by student groups. Individual students and the student group are responsible for all conduct and content.