Master's Degree
If you're a recent graduate, a professional journalist looking to up your game or a data/information studies major wondering how to apply your degree, then this is the program for you.
The Philip Merrill College of Journalism offers two Master's Degree Programs and several specialized tracks of study.
The Master of Arts in Journalism is a research-oriented, thesis program of 30 credits. The program is intended for experienced journalists, academics and others who are looking for a more scholarly master's program. Students in the M.A. program must successfully complete a thesis under the supervision of a graduate advisor. Students must complete a theory class, a methods class, and 6 credits of master's thesis research.
The Master of Journalism degree is a nonthesis program that requires up to 36 credits. This program is intended for students, whether experienced or not, who want to work as professional journalists after graduation. M.J. students' degree program culminates in a review of their journalism portfolio by a panel of faculty and professionals. There is no thesis requirement for M.J. students. Broadcast or multiplatform students may further specialize in investigative, computational/data or sports focuses and may also steer their degree into other types of journalism through course selection. In their last semester, M.J. students enroll in a six-credit capstone course in one of the Capital News Service (CNS) bureaus on campus, in Annapolis or Washington, D.C.
The sports journalism focus at the Philip Merrill College of Journalism provides master's students an opportunity to learn about sports coverage in the modern era while gaining hands-on experience covering teams in the Washington-Baltimore region. The college offers a number of sports-related courses, such as sports reporting, sports broadcasting and sports media and society. In addition, the Shirley Povich Center for Sports Journalism offers a wide range of learning opportunities with panel discussions, student workshops and even a summer camp. There are additional opportunities to cover sports with Capital News Service, the Diamondback student news outlet, the student-run WMUC radio and the Maryland Athletic Department's TerpsTV. Big Ten Network also provides opportunities for our students to learn by doing.
The investigative focus is taught by an experienced faculty of award-winning journalists, including Pulitzer Prize-winning investigative reporters Dana Priest and Deborah Nelson, and Mark Feldstein, a former Emmy award-winning investigative correspondent at CNN. The concentration offers courses in investigative journalism, data reporting, national security, cybersecurity, urban affairs and history. The program offers opportunities to travel abroad for research and reporting. Even more opportunities are available through the Howard Center for Investigative Journalism.
This focus offers the opportunity to develop data-driven reporting, analysis and visualization skills in the context of journalistic work. Students will advance their knowledge of web development, as well as interactive design and coding in languages such as Javascript and Python. Courses in computer-assisted journalism, storytelling with data visualization and computational journalism help students develop portfolios of interactive, data-driven projects.
Curriculum
The following are courses that Merrill College offers. Not all classes are offered every semester. To see the current offerings, visit the Graduate Course Catalog.
JOUR501 Fundamentals of Writing and Editing (3) Note: Does not count toward 30-credit total. Principles of news and feature writing. For graduate students with limited prior training or experience in journalism.
JOUR504 Introduction to Multimedia Skills (3) Note: Does not count toward 30-credit total. Examining the basics of producing and editing digital photos, video and audio. Topics include: framing, lighting and other aspects of composition; sequencing, using wide, medium and tight shots; and ethical considerations when collecting sound and visuals.
JOUR601 Theories of Journalism and Public Communication (3) Survey and evaluation of current communication theories. Attention is given to the nature and function of scientific theory, models of communication behavior, the nature of information, social functions of journalism and public communication, attitude change and persuasive communication, and theories of language and meaning.
JOUR603 News Videography (3) Note: Prerequisite: JOUR504. An introduction to reporting, writing and producing television news.
JOUR610 Seminar in Mass Media History (3) Individual projects in mass communication history, analysis of historical literature of journalism, and individual study of media technology and trends in communication.
JOUR620 Seminar in Public Affairs Reporting (3) Prerequisite: JOUR502 or professional equivalent. Federal, state, county and local government centers are used as laboratories for advanced study of reporting, investigation and interpretation of public affairs. Students meet in seminars with news sources and news professionals and participate in live news coverage.
JOUR625 Capital News Service: D.C. and Annapolis (6) Prerequisite: JOUR620 and permission of department. Advanced training in public affairs journalism. Students train full time, four days a week by reporting state and federal news as part of the college's Capital News Service program.
JOUR627 Urban Affairs Reporting (3) Prerequisite: JOUR501 and permission of department. Students are immersed in coverage of issues affecting cities, working on a semester-long multiplatform reporting project based in Baltimore.
JOUR628B Specialized Topics in News Writing and Reporting; Sports Reporting and Writing
JOUR652 Online Journalism (3) Prerequisites: JOUR502 or JOUR503 or equivalent. Editing and writing online, using basic web-coding skills and tools to create news and feature packages for the internet. New-media issues, including interactivity and individualization, are also discussed.
JOUR655 Advanced Online News Bureau (6) Prerequisite: JOUR652 (or equivalent) and permission of department. Advanced online journalism training. Students work as online reporters, editors and producers for an online newsmagazine. Students also package copy from the print and broadcast news bureaus.
JOUR656 Advanced Kaiser Health Multimedia Reporting (3) Prerequisite: JOUR504 and permission of instructor. Pre- or Co-requisite: JOUR503 or JOUR620. Advanced reporting on health topics, using traditional and multimedia storytelling tools.
JOUR660 Broadcast News (3) Descriptive and critical analysis of broadcast news, methods of evaluation of news judgments, decision-making and organizational aspects of the broadcast news industry.
JOUR661 Reporting and Production (3) Reporting, writing, editing and production of broadcast news.
JOUR663 Long Form Broadcast Journalism (3) Prerequisite: JOUR503 or its equivalent. Extended TV reporting assignments such as miniseries and news documentaries.
JOUR667 Broadcast News Bureau (6) Prerequisites: JOUR503 and permission of department. Advanced broadcast journalism training. Students report as part of the College's Capital News Service Program.
JOUR698 Special Problems in Communication, (1-6) Independent study in area of the student's interest.
JOUR702 Media Law/Ethics (3) Examination of ethical problems in journalism and the media industry.
Advising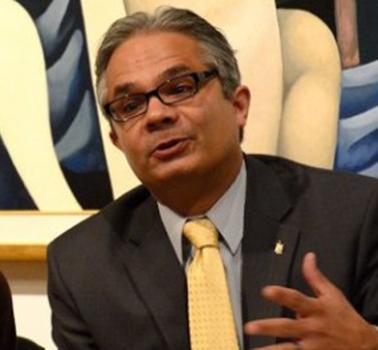 Rafael Lorente
Associate Dean for Academic Affairs; Director of the Master's Program; Senior Lecturer