Research
Merrill College faculty members who conduct research include: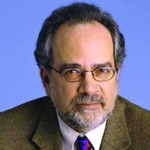 Ira Chinoy, Ph.D., University of Maryland-College Park; A.B., Harvard
Dr. Ira Chinoy has 24 years of experience as a journalist at four newspapers: The Washington Post, The Providence (R.I.) Journal, The Lawrence (Mass.) Eagle-Tribune, and The Pine Bluff (Ark.) Commercial. As director of computer-assisted reporting at The Washington Post, he was part of a team that won the Pulitzer Prize for Public Service for a 1998 series on the use of deadly force by the D.C. police. At The Providence Journal, where he was a reporter from 1981 to 1995, Chinoy was part of a team that won the Pulitzer Prize in Investigative Reporting for coverage of corruption and patronage in the Rhode Island courts. Chinoy has been on the faculty of the College of Journalism since 2001, first as a visiting professor and now as associate professor.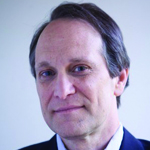 Mark Feldstein, Ph.D., University of North Carolina
Dr. Mark Feldstein, Professor and Richard Eaton Chair, joined Merrill in 2011 after serving as Associate Professor at George Washington University. He has spent more than 20 years as an investigative reporter, working at WUSA-TV in Washington, ABC News, NBC News, and CNN, where he worked as correspondent and producer. During his distinguished career in broadcasting, he won more than 50 journalism awards, including two George Foster Peabody public service awards and the Edward R. Murrow prize. He is frequently cited in the national news media by such outlets at The New York Times, The Washington Post, National Journal, NPR, Frontline, Reuters, and the BBC.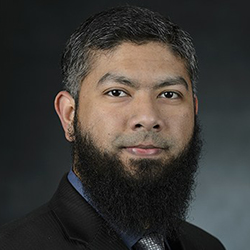 Naeemul Hassan, Ph.D., University of Texas at Arlington
Dr. Naeemul Hassan is a tenure-track faculty member jointly appointed at the University of Maryland Philip Merrill College of Journalism and College of Information Studies. He directs the Computational Journalism Lab at UMD. A leader in applying big-data and data-mining principles and methods to journalism and computer-science instruction, Hassan came the university faculty in 2019. He holds a Ph.D. in computer science from the University of Texas at Arlington and was previously an assistant professor at the University of Mississippi and the director of their multidisciplinary Data Exploration and Research laboratory (dear.lab). Hassan's interests include computational journalism, social-media sensing, data mining and natural language processing. His research focuses on the ways in which different entities use social media as an engagement tool, as well as how to design algorithms that would reduce harm caused by clickbait in social media.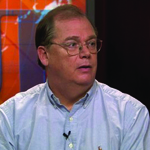 Christopher Hanson, Ph.D., University of North Carolina; M.A., Oxford
Dr. Christopher Hanson worked for 20 years as a reporter for Time, The Washington Star, Reuters, and the Seattle Post-Intelligencer, focusing on topics such as presidential politics, Congress, the environment, American diplomacy, and military affairs. Hanson was a combat correspondent in the Gulf War and covered the civil war in Rwanda. He joined the Philip Merrill College of Journalism in 1999 after earning a Ph.D. in Mass Communication from the University of North Carolina under a Freedom Forum Fellowship and an M.A. in political theory and moral philosophy in 1984 from Oxford University.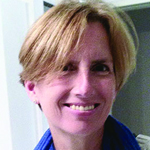 Susan Moeller, Ph.D. & A.M., Harvard University; B.A., Yale
Dr. Susan Moeller is the director of the International Center for Media and the Public Agenda at the University of Maryland, College Park. She is also a professor in the Philip Merrill College of Journalism at the University of Maryland and an affiliated faculty member at the School of Public Policy. An accomplished author, she is an expert in terrorism, war and conflict as it relates to the media. Moeller was formerly the director of the Journalism Program at Brandeis University, a Fulbright Professor in Pakistan and Thailand, and she has taught in the history department at Princeton.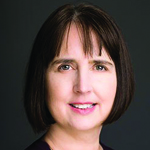 Sarah Oates, Ph.D., Emory University
Dr. Sarah Oates is Professor and Senior Scholar at the Merrill College. She researches communication and democracy. She has published books on the role of terrorism threats in campaign coverage in the United States, Russia and the United Kingdom, as well as two books on the Russian media. Her latest book, Revolution Stalled? The Political Limits of the Internet in the Post-Soviet Sphere, was published by Oxford University Press this year.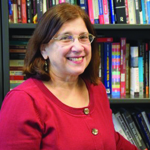 Linda Steiner, Ph.D., University of Illinois Urbana-Champaign
Dr. Linda Steiner, who is acting director of the Ph.D. program and editor of Journalism & Communication Monographs, has published seven books, most recently The Handbook of Gender and War, and 100 book chapters and journal articles; the co-edited Race, News, and the City: Uncovering Baltimore will be published in 2017. Her research interests include media ethics, citizen participation in journalism and other new journalism formations, feminist theorizing, war reporting, and gender roles in alternative, feminist, and mainstream media. Before coming to Maryland she taught at Rutgers University, where she served as Department Chair; at Maryland, Steiner served a term as director of the Ph.D. program. Steiner served as the 2011-2012 president of the Association for Education in Journalism and Mass Communication (AEJMC). She worked for a small newspaper in upstate New York before going to the University of Illinois at Champaign-Urbana, where she earned her Ph.D.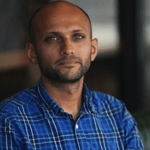 Krishnan Vasudevan, Ph.D., University of Texas at Austin
Dr. Krishnan Vasudevan is a scholar, filmmaker and journalist who researches within three core areas of inquiry. First, his research critically examines how capitalism erodes social frictions such as independent journalism and labor power, that are critical to an equitable, functioning democracy. Vasudevan also studies the ways in which digital platforms such as Facebook and Uber use interactive design to shape the beliefs and behaviors of workers, consumers and citizens. Another key dimension of his research is examining how workers such as journalists and taxi drivers resist capitalism, through the creation of media, technologies and worker-owned cooperatives. He uses ethnographic methods, filmmaking and textual analysis to produce critical, qualitative research and films. Vasudevan's research has been published in several academic journals and books, such as Communication Culture and Critique, the Howard Journal of Communications, Journalism & Mass Communication Quarterly, Journalism Studies, Journalism Practice, and The Handbook of Visual Communication (2nd Edition). He serves as the 2020-2021 research chair of the Cultural & Critical Studies Division of AEJMC and was selected as an inaugural Research Leaders Fellow at the University of Maryland. Click here to see Vasudevan's citations.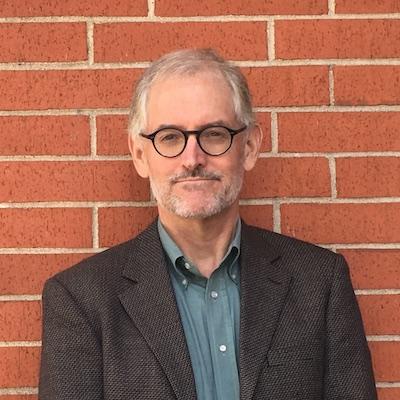 Rob Wells, Ph.D., University of Maryland; M.A., St. John's College
Dr. Rob Wells, associate professor and director of Ph.D. Studies, is a journalism historian who is exploring how business journalism can improve and better serve society. He is the author of "The Enforcers: How Little-Known Trade Reporters Exposed the Keating Five and Advanced Business Journalism" (University of Illinois Press, 2019), one of the first books to explore the power and promise of investigative journalism in the trade press. His second book, "The Insider: How the Kiplinger Newsletter Bridged Washington and Wall Street" (University of Massachusetts Press), argues that business journalist Willard Kiplinger was an influential political actor during the New Deal. Kiplinger played an important role in persuading businesses to accept New Deal regulations, and therefore was part of a movement to transform capitalism in the 1930s. The book is set for release in fall 2022. Wells also conducts research in data journalism and is the author of "Media coverage of Chinese investment in the United States: Politics and missed opportunities" (Newspaper Research Journal, 2021), a big data analysis of news coverage involving Chinese investment in the U.S. from 2000 to 2019. Wells completed his Ph.D. at Merrill in 2016 and returned to the university at the start of the Spring 2022 semester after more than five years at the University of Arkansas, where he rose to the rank of associate professor and led Arkansas' journalism graduate program.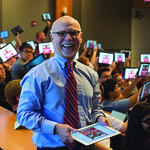 Ronald Yaros, Ph.D., University of Wisconsin-Madison
Dr. Ronald Yaros, Merrill College's director of Ph.D. Studies, researches the cognitive aspects of how online and mobile users seek, select, and share digital content, especially news about complex topics. His Media Engagement Lab currently works with major news organizations to test innovative strategies and analytics that engage more users with more content for longer periods of time. He is a 2017 Apple Distinguished Educator and a 2017 Tow-Knight "Disrupter in Education" Fellow. His research on web and mobile audiences appears in two book chapters, Communication Research, Science Communication, International Journal of Cyber Behavior Psychology, and Learning, and Harvard's Nieman Reports. Prior to his Ph.D., Yaros worked for more than 20 years as a radio/TV news reporter, anchor and meteorologist. He was also president of his own educational software corporation.
Faculty at the Philip Merrill College of Journalism carry out leading research in Journalism Studies, with an emphasis on the analysis of journalism practice and ethics. Within this broad research framework, we have particular interests in international media, media history, gender, and the study of emerging technology and the audience. These themes are explored in a range of national and international research publications, academic conferences, grants, keynote presentations, workshops and other outlets. In particular, we pride ourselves on a strong culture of research collaboration, both informally within Merrill College as well as formally through a large amount of coproduced work among colleagues and with our Ph.D. students. From 2012 to 2015 alone, Ph.D. students were coauthors on 27 separate refereed journal articles, scholarly papers, book chapters, reports and other publications.
You can learn more about individual researchers under our faculty listings, but below is an overview of research from our tenured and tenure-track faculty (alphabetical order):
Ira Chinoy: Computer-assisted reporting, media history, and the role of technology in journalism. A founder and director of the Future of Information Alliance (www.fia.umd.edu)
Mark Feldstein: Media history, with a focus on the intersection of national politics and reporters.
Christopher Hanson: Conflict reporting and media history. Gender, the military, and media coverage.
Susan Moeller: U.S. and global media and public policy, especially in regards to violence, conflict, war and disasters; terrorism and WMD; human rights; photojournalism; trauma, ethics.
Sarah Oates: Political communication and democratization, particularly the way in which the traditional media and the internet can support or subvert democracy in places as diverse as Russia, the United States, and the United Kingdom. Researching online content.
Linda Steiner: How and when gender matters in news and newsrooms and how feminist groups use media. Other research areas include media ethics; gender and war reporting; journalism history; and public journalism. Qualitative methods.
Ronald Yaros: Digital storytelling structures; mobile journalism techniques; infographics; reporting/anchoring for television and radio; science and health journalism; research methods (quantitative and qualitative); blended teaching and learning with technology; teaching and learning with mobile devices.