Brandon Benavides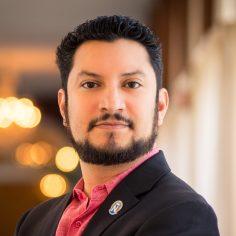 Brandon Benavides
Adjunct Lecturer
Brandon A. Benavides is a content producer at NBC4 Washington. He currently serves on the board of SAG-AFTRA Washington-Mid-Atlantic Local.
He served as president of the National Association of Hispanic Journalists from 2016-18. The Emmy-winning journalist has more than 15 years of experience in broadcast news. He previously taught at the University of Texas at Tyler.
Benavides earned his master's degree in Communication: Journalism and Public Affairs at American University in Washington, D.C., and his bachelor's in communication from St. Edward's University in Austin, Texas.
Contact
B.A., St. Edwards University
M.A., American University