Gene Roberts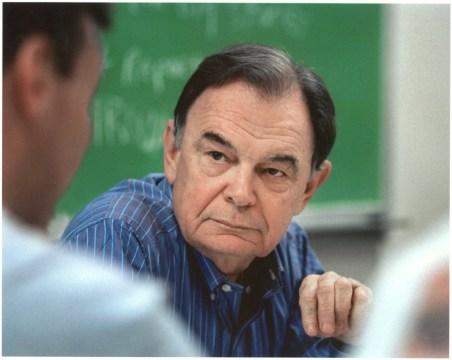 Gene Roberts
Professor Emeritus
(Edited from material on the Committee to Protect Journalists website.)
Gene Roberts began his teaching career at the Philip Merrill College of Journalism in 1991, following 18 years as the executive editor of The Philadelphia Inquirer, which won 17 Pulitzer Prizes under his leadership.
He took a hiatus from his university work from 1994 to 1997 to serve as managing editor of The New York Times. In 1998, he returned to the college, where he taught courses on writing the complex story, the press and the civil rights movement, and newsroom management. He retired and was named Professor Emeritus in the fall of 2010.
Roberts is a former chairman of the board of the Committee to Protect Journalists. He has served on the boards of the Pulitzer Prize, the World Press Freedom Committee, and the Center for Foreign Journalists. He has co-authored numerous books, including Leaving Readers Behind: The Age of Corporate Newspaper, The Censors and the Schools, and the Pulitzer Prize-winning The Race Beat. He was editor-in-chief of the American Journalism Review's "State of the American Newspaper Project," published in 2000.
Roberts began his career as a farm reporter for North Carolina's Goldsboro News-Argus. He later joined The New York Times where he led the paper's coverage of the 1960s civil rights movement in the South and served as chief war correspondent in Vietnam. Roberts received the National Press Club's Fourth Estate Award for Distinguished Contributions to Journalism in 1993.
From Wikipedia:
Roberts is widely viewed by his peers as among the most influential late 20th-century editors of daily newspapers in large American cities. He is credited with reviving The Inquirer and leading it from a second-place daily to one of the best regional newspapers in the country. Largely, he did it by recruiting young, talented journalists and giving them a free hand both in time and space to write compelling investigative stories under the tutelage of senior editors. Such nationally known writers as Mark Bowden (Black Hawk Down) and Richard Ben Cramer (What It Takes: The Way to the White House) worked at The Inquirer. Perhaps the most famous and longest lasting investigative team ever — Jim Steele and Don Barlett — flourished under Roberts.
B.A., University of North Carolina at Chapel Hill