George Solomon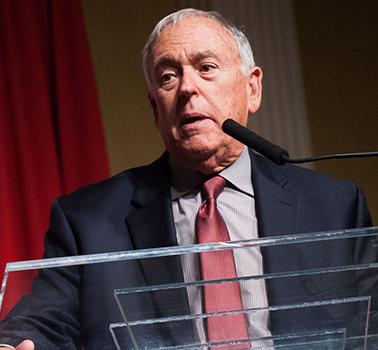 George Solomon
Retired (Professor of the Practice; Director, Shirley Povich Center for Sports Journalism)
George Solomon was assistant managing editor for sports at The Washington Post from June 1975 to June 2003. Solomon began working at The Post in June 1972, joining the sports staff as a reporter covering the Redskins, the National Football League, and college sports.
He came to the Philip Merrill College of Journalism in 2003 and was named Professor of the Practice in 2008. He became the founding director of The Shirley Povich Center for Sports Journalism in November 2011. He retired at the end of June 2020.
Since his retirement as Washington Post sports editor, he was named ombudsman for ESPN in July 2005, the first person to serve in that newly created position for the network. He also coedited "All Those Mornings" – an anthology of the work of the late Post columnist Shirley Povich, published in April 2005 by Public Affairs Press.
Solomon is a 1963 graduate of the University of Florida with a Bachelor of Science degree from the School of Journalism. After graduation, he worked in the publications department of the NCAA and was a news aide for the New York Post. He became a reporter for the Fort Lauderdale News and later became the sports editor at the Sun Sentinel, where he worked from 1966-70. He joined the Washington Daily News in 1970 as a sports reporter and columnist. When that paper closed in June 1972, he joined The Washington Post.
Solomon was awarded the Eugene Meyer Award for distinguished service to The Washington Post in 1999 and won the Associated Press Sports Editors (APSE) Red Smith Award in 2003 for his contributions to the field of sports journalism. He was also honored that year by the National Association of Black Journalists (NABJ) and the Association of Women in Sports Media. He was inducted into the Washington Sports Hall of Fame in April 2014.
Contact
B.A., University of Florida