Jay G. Blumler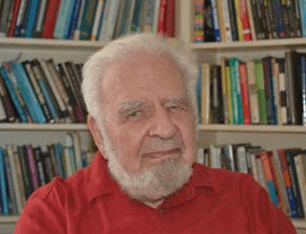 Jay G. Blumler
Professor Emeritus
From Wikipedia:
Jay G. Blumler is an American-born theorist of communication and media. He is now Emeritus Professor of Public Communication at the University of Leeds, and also Professor Emeritus of Journalism at the University of Maryland, having spent his early academic life largely in the United Kingdom.
He was a political science graduate of Antioch College, and a doctoral student from 1947 at the London School of Economics. He taught at Ruskin College, Oxford, before taking a position in Leeds in 1963, as Granada Television Research Fellow. He came to the University of Maryland in 1983.
Blumler explained in the OneFile interview how he ended up at Maryland:
Why did you take the joint appointment with Maryland?
It has to do with the big failure in my career. The center here in Leeds had a research record and recognition in the field, but I could never get the university to invest in it. Their funding consisted of my post, a research assistant, a secretary, and some modest expanses. I was frustrated and even thought of accepting one of the full-time appointments that might have been offered to me. Opportunities arose at Madison, USC, Cleveland State and Syracuse, where Max McCombs still was, but I couldn't really see myself pulling up all the roots here. Michael Gurevitch, who was a lifelong colleague, had got to Maryland the year before. He knew how I was feeling and persuaded the dean to offer me a position for one semester a year.
Read the entire interview with Blumler in this Academic OneFile interview.
Contact