Len Elmore ('74)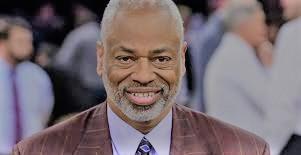 Len Elmore ('74)
Professor of Sport Management, Lawyer, Analyst, Former Athlete
Len Elmore is a former collegiate basketball All American at The University of Maryland at College Park, a ten-year player in both the ABA and NBA, an attorney, a television sports personality and an educator whose professional experience spans a rich athletic career, several prestigious law firms as well as significant business and public interest endeavors.  
Upon conclusion of his basketball career in 1984, Elmore received his law degree from Harvard Law School in 1987 as the first (and, to date the only) NBA player to graduate from that institution.  
Since 1987, Len has served as an Assistant District Attorney in Kings County (Brooklyn) NY, a Senior Counsel or partner for several name law firms, a sports agent and as CEO of three enterprises, that include TestU, an education technology company and iHoops, a youth sports joint venture of the NBA and the NCAA. Len also served as Chairman of the Board and Executive Director of the National Basketball Retired Players Association. He also enjoyed a 31-year career as a network basketball commentator primarily for CBS Sports, ESPN and Fox Sports.  
Currently, Len is a Senior Lecturer for Columbia University in the Sports Management program. Len was a Director on the board of Lee Enterprises, a leading news and information company for 10 years. He currently serves as a director on the board of 1800Flowers.com where he chairs the Nomination and Corporate Governance committee.  After 12 years of service and then a 2 year hiatus Len rejoined as a Commissioner on the reform-minded Knight Commission on Intercollegiate Athletics.