Ray Hiebert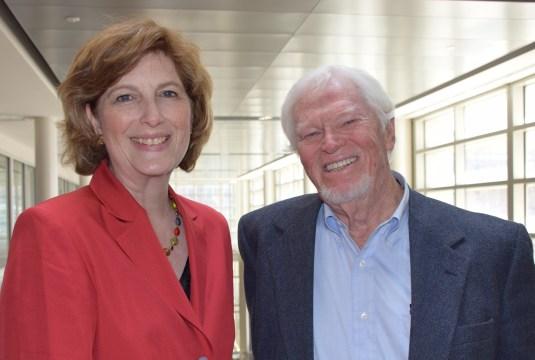 Ray Hiebert
Professor Emeritus; Former Dean
Ray E. Hiebert was a writer, editor, teacher, researcher, and specialist in international communication. He was a professor emeritus and was founding dean (1968) of the College of Journalism at the University of Maryland. He died in August 2023 at age 91.
He was author and editor of books and articles on history, biography, journalism, public relations, public affairs and mass media. He worked with then-Dean Thomas Kunkel as a consultant to the University of Maryland's journalism education projects in China.
He was founding director of the American Journalism Center in Budapest, serving from 1991-95. The Center, with a grant from the International Media Fund in Washington, conducted journalism courses for Hungarian students and workshops for Hungarian journalists.
From 1983-91, he was the academic advisor to the Voice of America, helping create the VOA's International Communication Training Center, which offers short courses for journalists, broadcasters, information specialists and communicators from all over the world. He was director of the Center's Summer Fellowship Program for Third World Journalists for seven years.
He has traveled extensively in Africa, Asia, Eastern Europe and the Caribbean as a freelance journalist, researcher and lecturer. He has directed workshops in fifteen different countries of Africa, four Caribbean countries, the former Soviet Union, Hungary, Poland, Latvia, Estonia, Albania and Bulgaria, as well as in Japan, South Korea and the Philippines.
In 1982, he was awarded a Fulbright Fellowship to work with the Liberian Broadcasting System and the University of Liberia to develop a journalism training program for Liberian students and broadcasters. He was a visiting professor at Rhodes University in South Africa in 1984 and at the University of Algiers in 1990. He was the "Robert Godlonton Memorial Lecturer on Mass Media" in Pretoria, South Africa, in 1991.
He most recently gave lectures at universities in Amsterdam, Leipzig, Tehran, Dubai, Wuhan (China) and Hong Kong.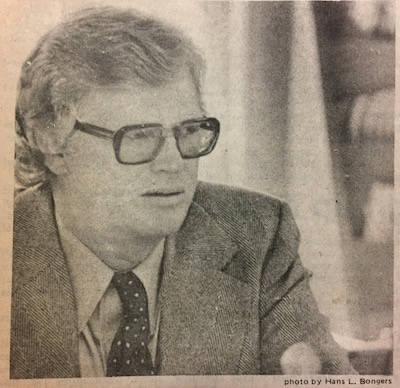 An April 1978 Diamondback photo of Dr. Hiebert by Hans L. Bongers.
In 2000, the University of Maryland gave him its Landmark International Award for his contribution to international education and understanding.
At the University of Maryland, the College he founded has subsequently become one of the top 10 in the nation. Earlier he had been founding director of the Washington Journalism Center, and chair of the communication department at American University.
He is coauthor of several important texts, including "Mass Media" (Longman, 6th edition, 1991) and "Exploring Mass Media" (Erlbaum, 2000). He is editor of "Impact of Mass Media" (Longman, 4th edition, 1998), "Precision Public Relations" (Longman, 1988) and "The Press in Washington" (Dodd, Mead, 1966). He is coeditor of "Issues in International Communication" (Longman, 1989), "Media Now" (Longman, 1985), "Informing the People" (Longman, 1979), "Political Image Merchants" (Acropolis, 2nd edition, 1976) and "The Voice of Government" (John Wiley & Sons, 1968).
He is also the author of four biographies, including "Courtier to the Crowd: The Story of Ivy Lee" (Iowa State University Press, 1966), and editor since 1975 of the Public Relations Review, a critical research journal.
Hiebert grew up in California and received his B.A. from Stanford University, M.S. from Columbia University Graduate School of Journalism, and an M.A. and Ph.D. in history from the University of Maryland.
He started his professional career as a journalist and worked briefly for the Los Angeles Examiner, The Washington Post, NBC News and the American Banker, a financial daily in New York. He also served for two years as the editor of a U.S. Army newspaper in Orleans, France.
B.A., Stanford University
M.S., Columbia University
M.A., University of Maryland
Ph.D., University of Maryland