Sandy Banisky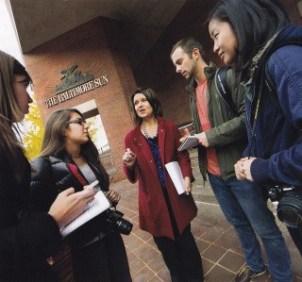 Sandy Banisky
Retired (Abell Professor in Baltimore Journalism; Senior Lecturer)
Sandy Banisky was Abell Professor in Baltimore Journalism for the Philip Merrill College of Journalism at the University of Maryland until retiring in 2022. Her Baltimore urban affairs reporting class spent a semester working in Baltimore reporting on issues of importance to cities.
Before joining the Merrill faculty, Banisky was deputy managing editor for news at The Baltimore Sun. In that job, she supervised the metro, foreign, national, sports and business desks and developed front-page stories from every department.
She also served as The Sun's deputy managing editor for metro. In 2002, the metro staff's coverage of the Washington Beltway snipers was a Pulitzer Prize finalist. She earlier was national editor and before that, a reporter.
As The Sun's national correspondent, Banisky covered the Oklahoma City bombing, the trial of Timothy McVeigh, the aftermath of floods in North Dakota and the crash of a jet into the Everglades, among other events. As a reporter for metro, her beats included state and local government, as well as abortion issues.
Her Baltimore urban affairs class' reporting on the problems poorer citizens face in finding quality health care — a collaboration with other Merrill classes and Kaiser Health News — was named 2016 national collegiate winner of a Society of Professional Journalists Mark of Excellence Award.
A graduate of Boston University, Banisky holds a law degree from the University of Baltimore and was admitted to the Maryland bar.
She joined the Philip Merrill College of Journalism in 2008.
Contact
B.S., Boston University
J.D., University of Baltimore