Sue Kopen Katcef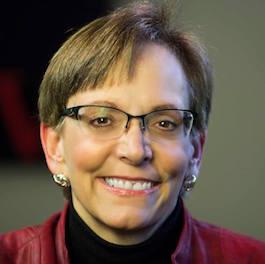 Sue Kopen Katcef
Retired (Capital News Service Broadcast Bureau Director; Senior Lecturer)
Sue Kopen Katcef '76, an award-winning veteran broadcast journalist, was the Broadcast Bureau Director of Merrill College's Capital News Service until retiring in 2019.
The advanced reporting students in the broadcast bureau, both seniors and master's students, are responsible for CNS-TV's "Maryland Newsline," a 30-minute live regional news show which airs three days per week on Merrill College's cable television channel, UMTV (which is seen in Montgomery and Prince George's counties in the Maryland suburbs of Washington). The show is also streamed live in HD and is being increasingly rebroadcast by other cable channels across the state.
"Maryland Newsline" has been named the outstanding student-produced television newscast in the country — twice by the Broadcast Education Association and once by the Society of Professional Journalists. The show has also won regional honors as best student newscast from the National Capital Chesapeake Bay Chapter of the National Academy of Television Arts and Sciences. CNS TV reporters have also individually won dozens of regional and national awards for the work they've done during their CNS semester.
Kopen Katcef previously taught broadcast news writing and production classes, and created "Terp Weekly Edition," a radio news magazine produced by students for campus radio station WMUC. After just three years, "Terp Weekly Edition" was named the national winner of the SPJ Mark of Excellence contest for outstanding newscast.
Prior to coming to Merrill College, Kopen Katcef (who is a 1976 Merrill alum) was a reporter and anchor for WBAL Radio in Baltimore, where she continued to freelance for many years after leaving her full-time position. She has also worked as a television reporter at Baltimore's WJZ and Maryland Public Television.
Kopen Katcef is also involved at the local and national chapter levels for SPJ. Sue, who joined SPJ as a University of Maryland student, is currently the SPJ National Vice President for Campus Chapter Affairs. She also was faculty adviser to the Merrill College's SPJ student chapter, which was named the outstanding SPJ student chapter in the country in 2015 and has won top regional student chapter several times.
She is a member of the Board of the Chesapeake Associated Press Broadcasters' Association. She serves on the Appointments and Advisory Board for campus radio station WMUC. She was also a founding member of a local Bench, Bar, Media Ad Hoc Committee as well as the coordinator of and contributor to "A Journalist's Guide to Maryland's Legal System" - a pocket-sized legal primer and contact resource for reporters.
Kopen Katcef's reporting has earned awards from the Radio Television Digital News Directors' Association, the New York Festivals, SPJ, the Chesapeake Associated Press Broadcasters' Association, the American Bar Association and the Maryland State Bar Association, among others. She also has been awarded a Silver Telly and given a Communicator Award of Distinction.
She was presented with SPJ's Distinguished Teaching in Journalism Award in 2003 and SPJ's David L. Eshelman Outstanding Campus Adviser award in 2002. She has twice been named "Outstanding Faculty Member" by the University of Maryland, College Park's Panhellenic Association and in February 2006 was honored as TIAA-CREF's "Top Terp" before the Maryland-Duke basketball game.
Sue lives in Annapolis, Maryland, with her husband, a prosecutor in the Anne Arundel County State's Attorney's Office and their son.
Expertise: Radio/Television News; State Legislative Coverage; Cameras-In-Court.
Affiliations: Society of Professional Journalists; Radio-Television News Directors Association; Chesapeake Associated Press Broadcasters Association; Bench, Bar, Media Ad Hoc Committee; WMUC Appointments and Advisory Board.
Courses Taught: Broadcast News Writing/Production; Independent Study.
Contact
B.S., University of Maryland