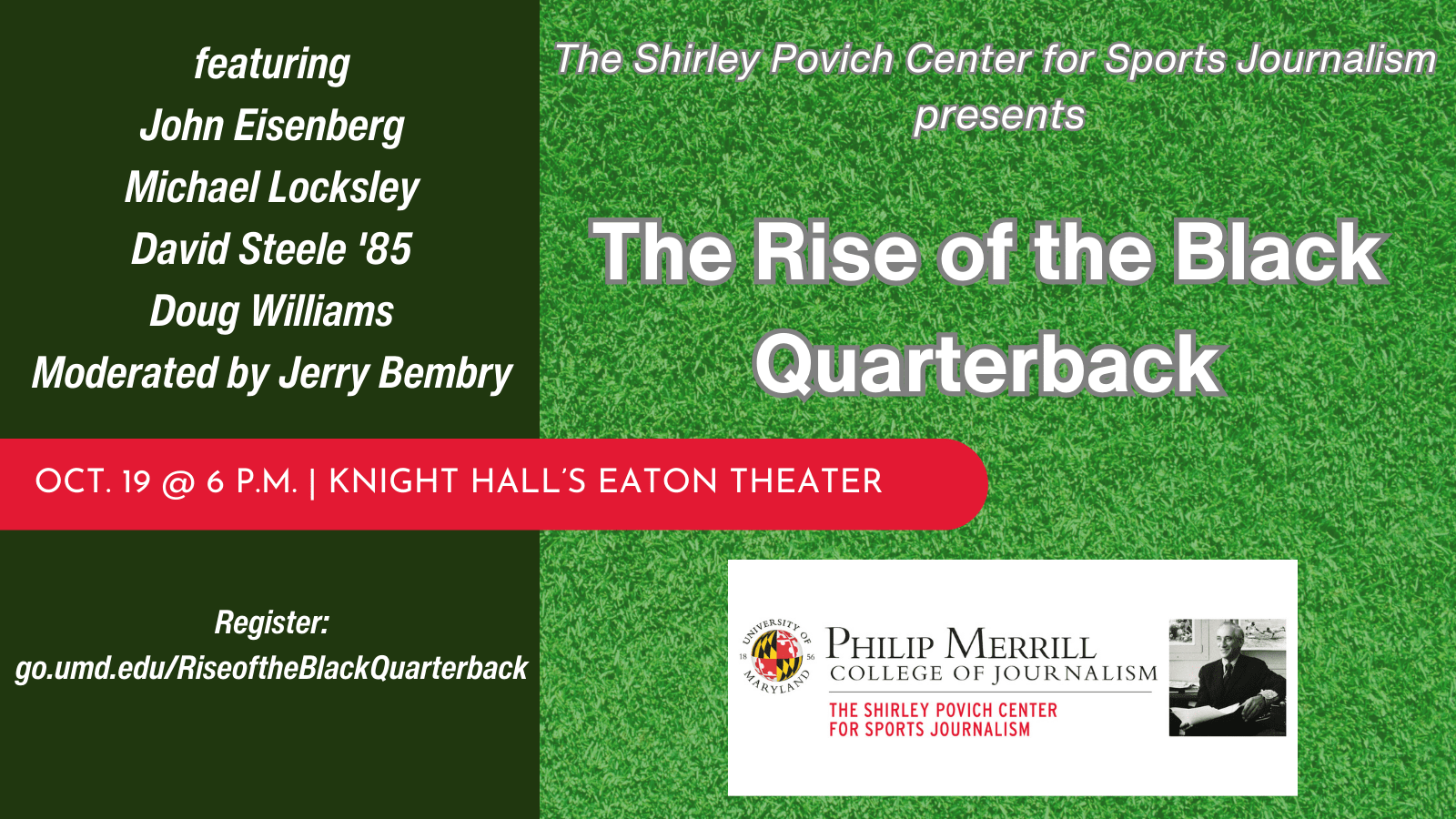 Location: Knight Hall's Eaton Theater
Join The Shirley Povich Center for Sports Journalism at the University of Maryland's Philip Merrill College of Journalism for a discussion on "The Rise of the Black Quarterback" on Thursday, Oct. 19 at 6 p.m. in Knight Hall or virtually via Zoom Webinar. For decades, quarterback was a whites-only position in the NFL, the panelists will discuss how that's changed and why.
Seating is limited, so registration is required. There is a virtual option, but you need to register to ensure you receive the Zoom link ahead of time. Please RSVP by noon on Oct. 19.
Panelists:
John Eisenberg, former columnist for the Baltimore Sun and BaltimoreRavens.com and author of several books, including the recently released "Rocket Men: The Black Quarterbacks Who Revolutionized Pro Football."
Michael Locksley, head coach of the University of Maryland football team. Locksley launched the National Coalition of Minority Football Coaches, which aims to prepare and promote qualified minority coaching candidates to the next step in their careers.
David Steele '85, a professional sports journalist for more than 35 years, currently writes for the legal news site Law360. Steele has authored or co-authored three books, including "It Was Always a Choice: Picking Up the Baton of Athlete Activism."
Doug Williams, senior advisor to the Washington Commanders president, played with the team from 1986-89 and was the first Black quarterback to play in a Super Bowl.
Moderated by Jerry Bembry, senior writer for ESPN's Andscape.
Eisenberg's book, "Rocket Men," and Steele's book, "It Was Always a Choice," will both be available for purchase following the discussion. The authors will also be available to sign all purchased copies.