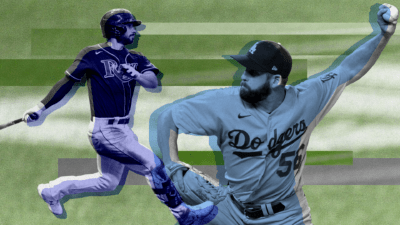 By Annie Dankelson
Maryland Today
Six weeks after facing each other in Game 4 of the 2020 World Series, former Terps Brandon Lowe and Adam Kolarek met again last night, this time swinging at questions from Mark Hyman, director of UMD's Shirley Povich Center for Sports Journalism.
Hyman wasn't throwing softballs, either, when he asked Lowe, the Tampa Bay Rays' second baseman, what it was like to be struck out by Kolarek, a relief pitcher for the Los Angeles Dodgers.
"As hard as he throws it, it's ridiculous," Lowe said. "Now that I've got one under my belt, I don't know if I want another at-bat (against him)."
The moment was just one covered during the virtual event hosted by the Povich Center in the Philip Merrill College of Journalism. Besides the two players — the first Terps to oppose each other in a World Series — ESPN baseball analyst Tim Kurkjian '78 also joined Hyman, the inaugural George Solomon Chair in Sports Journalism, to chat about this year's Fall Classic, which capped a COVID-shortened MLB season.
L.A. came out on top after six games at Globe Life Field in Arlington, Texas, making Kolarek the fourth former UMD player to hoist the trophy. But both players—along with Kurkjian, who covered the series — had plenty to discuss about their experiences making it to the sport's biggest stage.
On top World Series moments:
Kolarek's matchup vs. Lowe came during the pitcher's sole appearance in the series, and he noted that facing such a talented left-handed hitter required him to be "perfect."
"If that's the only time I get to face him, that's okay with me," he said jokingly.
But that highlight wasn't the only one worth noting last night. The panel also showed a clip of a Game 2 home run by Lowe, one of two he hit in that game and one of his three in the series.
"As soon as I hit the ball, I was like, 'You know, that has a chance,'" he said. "Thankfully, I didn't have to really start sprinting around the bases because we had runners on first and second, so I could jog and watch it the whole way. As soon as I really started going, man, I'm pretty sure I blacked out."
On lessons learned as a Terp:
Kolarek, who pitched at UMD from 2008-10, noted how competing in the high-powered ACC helped him learn how to approach top MLB teams.
"I was instantly the underdog heading into a lot of those matchups against these nationally ranked teams," he said. "I think that kind of taught me at a very young age … what it means to outwork your opponent."
Lowe, who played as a Terp from 2014-15 and said he entered college weighing "a buck 50 soaking wet," quickly learned discipline in the weight room and when balancing his time between practice, class and study hall.
And while Kurkjian didn't play at Maryland, he did take a couple of sports-related courses: Coaching Baseball and Coaching Basketball. "I got an A in both classes," he said.
On COVID safety protocols and the "bubble":
Playing amid a pandemic mandated several changes, from a 60-game schedule instead of the usual 162 to no high-fives to cardboard cutouts in the stands. Despite the precautions, there were still a few COVID-19 breakouts throughout the season.
"There was a point there where I wasn't sure if we were going to start the season, and then once we started it, I wasn't sure if we were going to finish it," Kurkjian said. "So I'm just thrilled that we got 60 games in and a memorable October."
Both Lowe and Kolarek credited their teams' trainers for helping players stick to the new rules, including in the "bubble" atmosphere during the World Series, which was played entirely in Arlington. The weirdest part of that, they said, was spending so much time in the same hotel—and sometimes seeing the team they just beat in the lobby the next morning.
On rule changes:
To quicken the pace of games during this unprecedented season, a few rules were adjusted, including instituting a designated hitter in the National League, starting every extra inning with a runner on second base and shortening doubleheader games to seven frames each.
"The seven-inning doubleheaders were fantastic for us position players," Lowe said. "Fourteen innings instead of 18 was phenomenal. My legs thanked me for that."
But he and Kolarek didn't think many changes should remain for seasons to come, and Kurkjian concurred.
"We've been playing nine innings for 150 years. I think we should play all the games in nine innings," he said. "And, I'm sorry, you can't put a runner on second base to start the 10th inning of a big league game."
On UMD family connections:
Besides playing at Maryland themselves, Lowe and Kolarek also have family connections to UMD: Lowe is married to former Terp softball pitcher Madison Lowe—"It's nice to have somebody who really understands and has that same work ethic and drive," he said—and Kolarek's dad, Frank Kolarek, was a UMD catcher from 1974-75.
That connection prompted a trivia question from Hyman, who challenged Kurkjian to answer the following:
"Frank Kolarek played minor league baseball for four seasons. He was a catcher in the Oakland A's organization from 1976-79. In 1979, playing for the Triple-A Ogden A's of the Pacific Coast League, Frank's teammates included: A future Washington Nationals pitching coach, a future Baseball Hall of Famer, and one of 29 players in baseball history to appear in big league games in four decades (1978-2002). Name them."
Answer: Steve McCatty, Rickey Henderson and Mike Morgan. Kurkjian got them all.