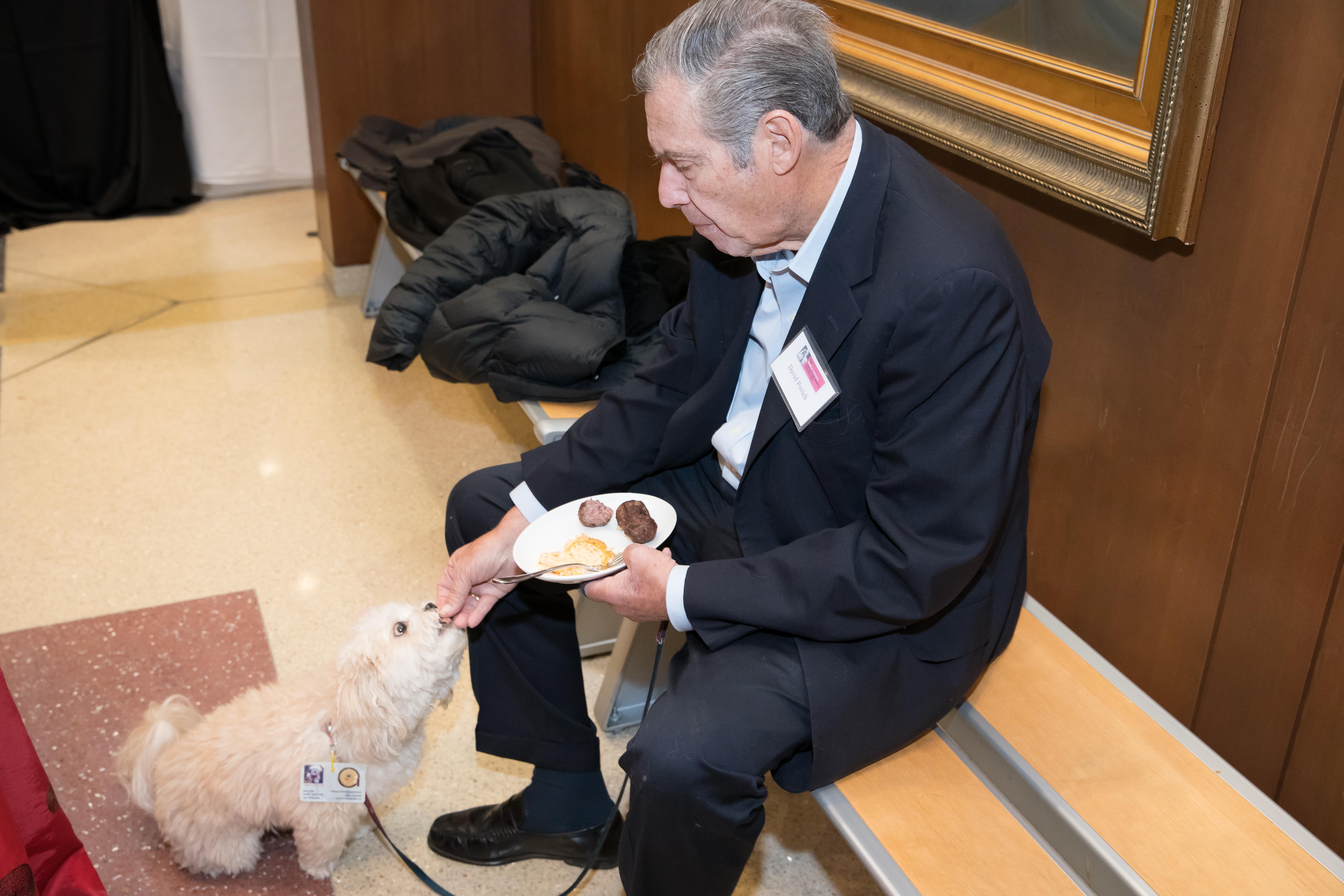 By George Solomon
David Povich, who earned his undergraduate degree from Yale and graduated from Columbia Law School, had little association with the University of Maryland or the Philip Merrill College of Journalism until 2004 when he, his brother Maury and sister Lynn funded, at a cost of $1 million, the Shirley Povich Chair for Sports Journalism to honor their father, the late sports columnist of The Washington Post. Several years later, for a similar price, the Poviches stepped up again, in 2011, and created The Shirley Povich Center for Sports Journalism.
I was fortunate to be the founding director of the center (until retiring in 2020) and worked closely with all three Poviches for nearly two decades. This, after the good fortune working with their father, the legendary Shirley Povich, whose 75 years at The Washington Post will never be matched for longevity, ability, grace and character. Shirley died in 1998 at the age of 92.
With Maury and Lynn living in New York City, it was David who mostly represented the family at Povich Center events. He was there for everything -- from the annual Shirley Povich Symposium on campus, to a 9 a.m. Monday "welcome" to Povich summer campers or Povich workshop attendees, to a December luncheon at the Newseum in D.C. or a midweek panel discussion on baseball in Knight Hall. 
Even when battling cancer and diabetes, among other ailments, made coming to College Park in recent years from Northwest Washington, D.C., difficult, David rarely missed a Povich Center event. Often appearing in Knight Hall with his dog, Salty, never late, always telling students and panelists after the event, "This was wonderful."
David passed away at his home in Washington on Aug. 19. He was 87. He leaves behind his wife, Connie, of 63 years, four children and 10 grandchildren, as well as brother, Maury, and his wife, Connie Chung, and sister Lynn and her husband, Steve Shepard. 
Professionally, David was one of the most accomplished and respected attorneys in the country, a partner for 50 years at the respected law firm, Williams and Connolly. His partner in the firm and best friend, Brendan Sullivan, loved saying David Povich could "make a jury cry or laugh – all to the benefit of his client." He could also be tough, relentless and for many, the man to call when a case seemed hopeless.
Sullivan and David shared ownership of a sailboat that regularly competed in races to Newport, Rhode Island, and Bermuda and was home base for family sailing trips to the Caribbean and Maine, where the Povich family has had a home for over 100 years. (David will be buried in Bath, Maine, on Aug. 24). 
David could not help being a sports fan. Every spring, starting in the late 1940s, Shirley would take his family to Orlando to cover Washington Senators' training camp for The Washington Post. David and Maury were both batboys for the team. Their mother, Ethyl, made sure the boys did their schoolwork. The daughter, Lynn, caused no such concern.
David attended high school at the Landon School in Bethesda, Maryland, and was a talented member of the baseball team.
Baseball was a lifelong passion of David, who became a fan of the Baltimore Orioles when the team was purchased in 1979 by his law partner, Edward Bennett Williams. When the Montreal Expos moved to Washington and became the Nationals in 2005, the Poviches were quick to become season-ticket holders.
David was a loyal Washington Nationals fan (he also followed Washington's professional football and basketball teams). But over the years, Washington's relief pitchers, particularly Jonathan Papelbon, caused him great agony. A regular in a box seat, several rows behind the Nationals' first base dugout, David would abruptly leave the stadium at the sight of Papelbon's appearance in a game – before the end of the game.
"How do you know who won?" I asked, wondering if he listened to the car radio on the way home.
"I can't even do that," David admitted. "I read the result in the next day's Post."
But like many Washingtonians, the Nats' 2019 championship run was special to David. By then he had taken to bringing his dog, Salty, to the games where the dog, in Nats' gear, would lie under David's seat. On the occasion of a home run by a National, David would stand, pick up Salty for everyone to see, do a full circle, holding Salty aloft. David would smile as his seat neighbors applauded.
George Solomon was director of the Shirley Povich Center for Sports Journalism from 2011-2020 and a faculty member of the Philip Merrill College of Journalism from 2003-2020. He was sports editor of The Washington Post from 1975-2003.