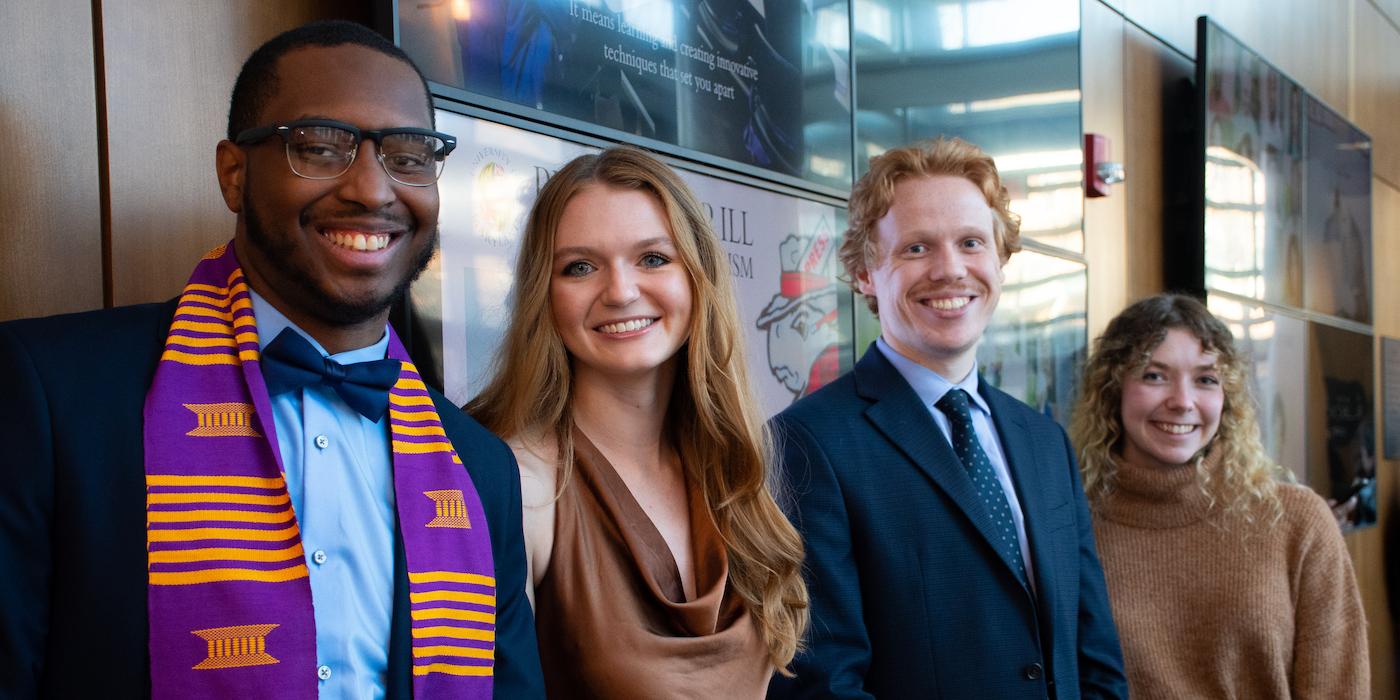 Merrill College's Student-Alumni Career Week is back!
During the week of Feb. 20-24, the Philip Merrill College of Journalism will host informational interviews with alumni working in journalism- and media-related fields, and a series of events featuring alumni and guests.
Students can sign up for informational interviews with one or more alums beginning Feb. 8. This is an opportunity to hear from some of the industry's top leaders and gain valuable career insights. 
All alumni and students are welcome to attend the panel discussions and in-person events. Links are below to register for each. 
For more information, contact Zackary Albrecht, program manager, alumni relations and development, at zackarya@umd.edu. 
Informational Interviews (for current Merrill students only)
Meet with one or more alumni for 30-minute interviews to gain valuable professional advice and insights. Meeting spots are first-come, first-served. The deadline to sign up is Thursday, Feb. 16.
Career Week Panels
Careers in Sports Journalism
Hear a panel of #MerrillMade alumni working in sports journalism talk about how they got to where they are and their day-to-day work.
When/Where: Monday, Feb. 20, 1 p.m. ET, virtual
Resume Workshop
Join Carla Correa (M.J. '03) to learn how to put your best foot forward when applying for jobs! Carla is The New York Times' deputy director of career programs. She will talk about what to include in your resume, what not to include, and how to use your resume and cover letter to land the job you want.
When/Where: Tuesday, Feb. 21, 1 p.m. ET, virtual
Careers in Social Media & Audience Engagement
Tune in and learn about the dynamic field of social media and audience engagement from #MerrillMade alumni. Panelists include Amanda Anderson (Director, Social Media, ESPN), Brittany Cheng (Senior Digital Analyst, NPR), Emma Grazado (Social Media Coach, The Washington Post) and Eric Morrow (Audience Development/Social Media Editor, Bloomberg Businessweek).
When/Where: Wednesday, Feb. 22, 12:30 p.m. ET, virtual
Put Your Networking Skills to the Test 
Master the best networking tips and tricks by putting your skills to the test. A panel presentation about networking in Eaton Theater will be followed by a reception in the atrium. The Journalism Alumni Network will provide complimentary hors d'oeuvres and beverages. Panelists include Robert Klemko (Staff Writer, The Washington Post), Megan Pratz (Political Editor, NPR) and Rhiannon Walker (Staff Writer, The Athletic).
When/Where: Thursday, Feb. 23, 6 p.m. ET, Eaton Theater
Follow the Money: Today's Business News Includes Crypto, Sports, Economic Injustice and more.
During this half-day forum, discover what it means to work in today's business news industry. Guest speakers include Sashi Brown (President, Baltimore Ravens), Tracy Jan (Former Race and Economy Reporter, The Washington Post), Kimberly Johnson (Deputy Chief News Editor, The Wall Street Journal), Jenna Telesca (Crypto Editor, The Wall Street Journal) and Kevin Blackistone (Merrill College, The Washington Post, ESPN).
When/Where: Friday, Feb. 24., 9 a.m. to 1:15 p.m. ET, in person at Knight Hall