COLLEGE PARK -- James Carroll and Bethany Swain, faculty members at the University of Maryland Philip Merrill College of Journalism, have been promoted to the rank of senior lecturer, Dean Lucy A. Dalglish announced Wednesday.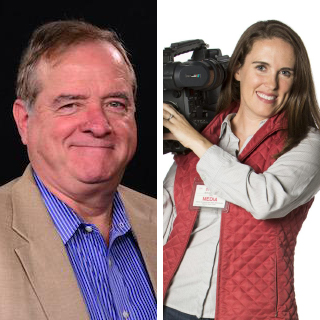 Carroll has been director of the Capital News Service Washington, D.C., Bureau since 2015. Swain has been a broadcast and multimedia lecturer at Merrill since 2012. 
"Our students have benefited greatly from Jim Carroll's extensive knowledge of the workings of the federal government. His calm manner, sense of humor and wisdom about the ironies of politics have inspired many of our aspiring political reporters," Dalglish said. 
"Bethany Swain's students have piled up national awards for outstanding photojournalism and videography since she joined the faculty. The former students she mentored are working in television studios, video departments at companies and in their own video startups. We are lucky to have Jim and Bethany on our faculty."
Carroll, who has more than 30 years of award-winning experience covering Congress, the federal government, and politics and policy, most recently was Washington bureau chief for the Louisville Courier-Journal. His work was frequently published on the USA Today wire, in Gannett newspapers nationwide and by USA Today.
As CNS' D.C. bureau chief, he leads breaking news coverage, in-depth investigative and enterprise journalism for Merrill College's student-powered news organization.
He is the author of two books: "One of Ourselves: John Fitzgerald Kennedy in Ireland" and "The Real Woodrow Wilson."
Swain is a nationally recognized photojournalist, multimedia producer and educator who spent most of her career innovating at CNN. Now she focuses on inspiring the next generation of storytellers at Merrill, where she has taught broadcast journalism and multimedia courses for the past nine years.
She founded the innovative ViewFinder photojournalism, storytelling and reporting capstone, where students create in-depth visual journalism projects that have won over 100 student and professional awards. 
While at CNN, Swain traveled thousands of miles — from Afghanistan to the presidential campaign trail. She won dozens of awards during her 10 years as one of the only women photojournalists at CNN, including the first and only woman named Video Photographer of the Year by the White House News Photographers Association. 
For more information, contact:
Josh Land
joshland@umd.edu
301-405-1321