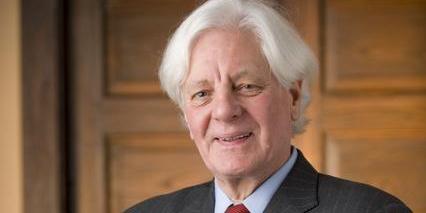 COLLEGE PARK -- Kevin Klose, a former dean and professor at the University of Maryland Philip Merrill College of Journalism who retired at the end of the Fall 2020 semester, has been appointed Professor Emeritus by UMD President Darryll J. Pines.
Klose, 80, taught at Merrill College after serving as dean from 2009 to 2012. He taught journalism as literature, ethics and leadership courses for Merrill College and for the university's honors program. 
"I thank Kevin for his thoughtful advice, gracious demeanor and insight into the job of a dean -- something only a dean can understand," Merrill College Dean Lucy A. Dalglish said. "We were so fortunate to have him here to impart his wealth of journalism knowledge to our students."
Klose came to College Park after a remarkable journalism career. He was president of NPR from 1998 to 2008 and was president emeritus immediately before being hired by Merrill College. 
Klose also served two separate tours as president and CEO of Radio Free Europe/Radio Liberty in Munich and Prague, and 25 years as an editor and reporter at The Washington Post. He was The Post's Moscow bureau chief 1977-81. 
Before joining NPR, Klose served successively as director of U.S. international broadcasting, overseeing the U.S. Government's global radio and television news services (1997-98) and president of Radio Free Europe/Radio Liberty (RFE/RL), broadcasting to Central Europe and the former Soviet Union (1994-97). He joined RFE/RL in 1992 as director of Radio Liberty, broadcasting to the former Soviet Union in its national languages. Among his achievements, he relocated RFE/RL from Munich to Prague and helped devise and implement a strategy to refocus the mission of all U.S.-funded international broadcasting and update operations.
Klose received a B.A., cum laude, from Harvard University. A former Woodrow Wilson National Fellow, he is the author of "Russia and the Russians: Inside the Closed Society," the winner of the Overseas Press Club's Cornelius Ryan Award. He is coauthor of four other books. Klose served two years active duty as a deck officer aboard a destroyer in the U.S. Pacific Fleet from 1962-64. 
For more information, contact:
Josh Land
joshland@umd.edu
301-405-1321