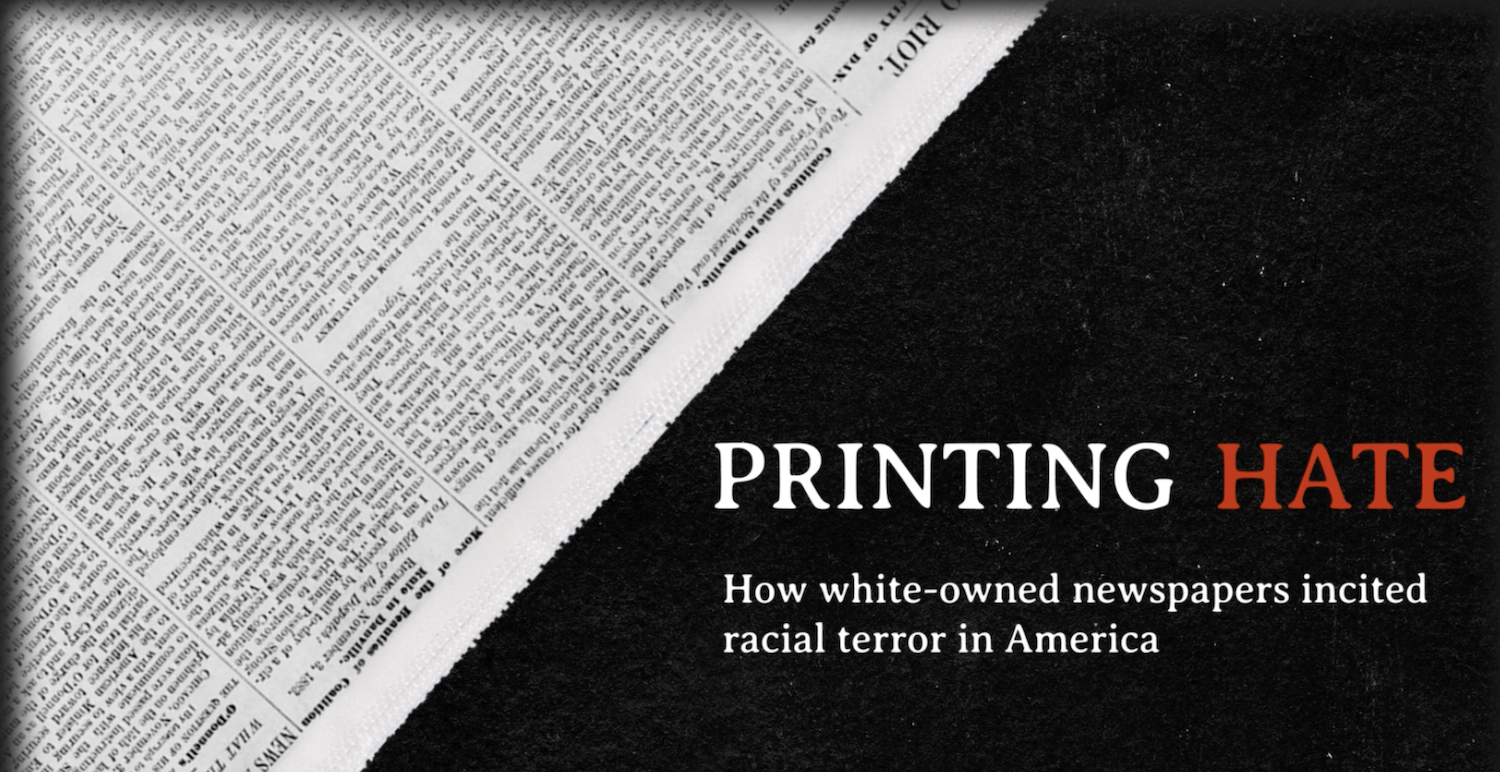 COLLEGE PARK – "Printing Hate," the University of Maryland Howard Center for Investigative Journalism's unprecedented exploration of the racist past of white-owned newspapers, this week won an Online Journalism Award from the Online News Association.
It won the Student Journalism Award in the Portfolio: Student Team category.
To make "Printing Hate" possible, the Howard Center recruited 60 journalism students from UMD's Philip Merrill College of Journalism, Hampton University, Howard University, Morehouse College, Morgan State University, North Carolina Agricultural & Technical State University and the University of Arkansas. 
Inspired by Merrill Associate Professor DeNeen Brown's reporting on the 1921 Tulsa Race Massacre, the students came together to document the racial hate and violence incited by white-owned newspapers during the Jim Crow era.
The judges' comment read: "Judges praised the winning entry as a bold and relevant reflection of the impact we have as journalists. The collaboration across seven campuses with 60 students is remarkable. Great writing, research and presentation. The judges applaud the entrants for telling stories that haven't been told, and encourage them to continue on this path."
Students examined newspapers published between 1865 and 1965, using computational journalism methods to extract information using large-scale text analysis from digital archives containing more than 5,000 newspapers.
Once they identified particularly egregious coverage, they dug deeply into census records and other historical manuscripts to identify and locate descendants, interviewed historians and contemporary experts on lynching, and talked to current and former newspaper editors about what responsibility, if any, modern papers have for addressing their pasts. 
That resulted in more than 40 student-generated stories, as well as a short documentary, static and motion graphics, photos and audio. A database published in December significantly expanded the scope of the project. It includes historic examples from nearly 70 additional newspapers that featured racist local coverage of lynchings. All of the papers in the database are still published today in some form.
The "Printing Hate" project previously won the Society of Professional Journalists' Sigma Delta Chi Award for Collaborative Journalism, the News Leaders Association's Punch Sulzberger Innovator of the Year Award, an Investigative Reporters & Editors medal and the 2021 IRE Award in the Student - Large category. It is believed to be the first student project to win an IRE medal.
The mission of the Howard Center is to teach the next generation of investigative journalists through hands-on investigative projects such as "Printing Hate." Student journalists have teamed with Merrill College's faculty and staff members to win some of the nation's top investigative journalism awards for packages that focused on such topics as climate change, homelessness and how companies prey on the poor. 
The Howard Center is generously funded by $3 million from the Scripps Howard Foundation and the "Printing Hate" project was supported by the Park Foundation.
For more information, contact:
Josh Land
joshland@umd.edu
301-405-1321