COLLEGE PARK -- Edward Alwood, an adjunct lecturer at the University of Maryland Philip Merrill College of Journalism, has been named an affiliate faculty member in the university's Harriet Tubman Department of Women, Gender, and Sexuality Studies (WGSS).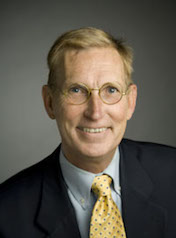 As an affiliate of the department, Alwood is now listed on the WGSS website and in its materials. He has also joined a community of over 80 affiliated faculty in 29 departments. 
"Professor Alwood has been a wonderful asset to Merrill College and our students," Merrill College Dean Lucy A. Dalglish said. "During these difficult times of online teaching, Professor Alwood has mastered it and students have gone out of their way to give him rave reviews for his handling of online classes. The students just love him.
"He is a terrific and thoughtful instructor, and is emblematic of the magnificent adjuncts we have at Merrill."
Affiliates of WGSS have expertise in feminist/womanist scholarship, typically teach courses on women, gender and sexuality, and share the mission of the department.
This past year, Alwood created a specialized Merrill College course on Gender Identity, Sexual Orientation and the News Media. Alwood also has written two books, with his 1996 book "Straight News: Gays, Lesbians, and the News Media" winning multiple awards and being named a Notable Book of the Year by The New York Times.
Alwood said the genesis of his course came when Dr. Darryll J. Pines became president of the university in 2020 and announced his priorities. 
"He spoke of fostering deeper conversations on a variety of topics, specifically naming gender identity and sexual orientation," Alwood said. "I suggested that Merrill College permit me to create a related course."
The WGSS department tries to provide assistance and support to its affiliates' programs and activities whenever possible. Through the WGSS graduate program, affiliates may be invited to assist in advising students, to serve on major field committees and even to chair or cochair a dissertation committee. The department's certificate programs provide an opportunity for affiliates' students with a strong interest in WGSS to achieve either a graduate or undergraduate certificate in women's studies while majoring in another discipline. 
"I consider this to be a personal honor, but it also strikes a note of appreciation for my work on a subject that for so long had been kept in the dark," Alwood said. "Though I wrote my book 25 years ago, the subject has become increasingly important in recent years as President Pines acknowledged last summer."
Alwood is a former CNN correspondent who reported on the White House, Congress and various federal agencies. Before that, he reported for WTTG-TV in Washington, D.C.
His reporting and documentary work earned him six Emmy nominations, the Janus Award for Financial News Reporting, a Broadcasting Excellence Award from United Press International, and an Outstanding Feature Award from The Associated Press. He has also written for The Christian Science Monitor, The Washington Post and the Hartford Courant.
Alwood earned a Ph.D. from the University of North Carolina. In 2010, he was named a Fulbright Scholar and taught at the American University in Bulgaria. He is an Emeritus Professor of Journalism at Quinnipiac University.
For more information, contact:
Josh Land
joshland@umd.edu
301-405-1321