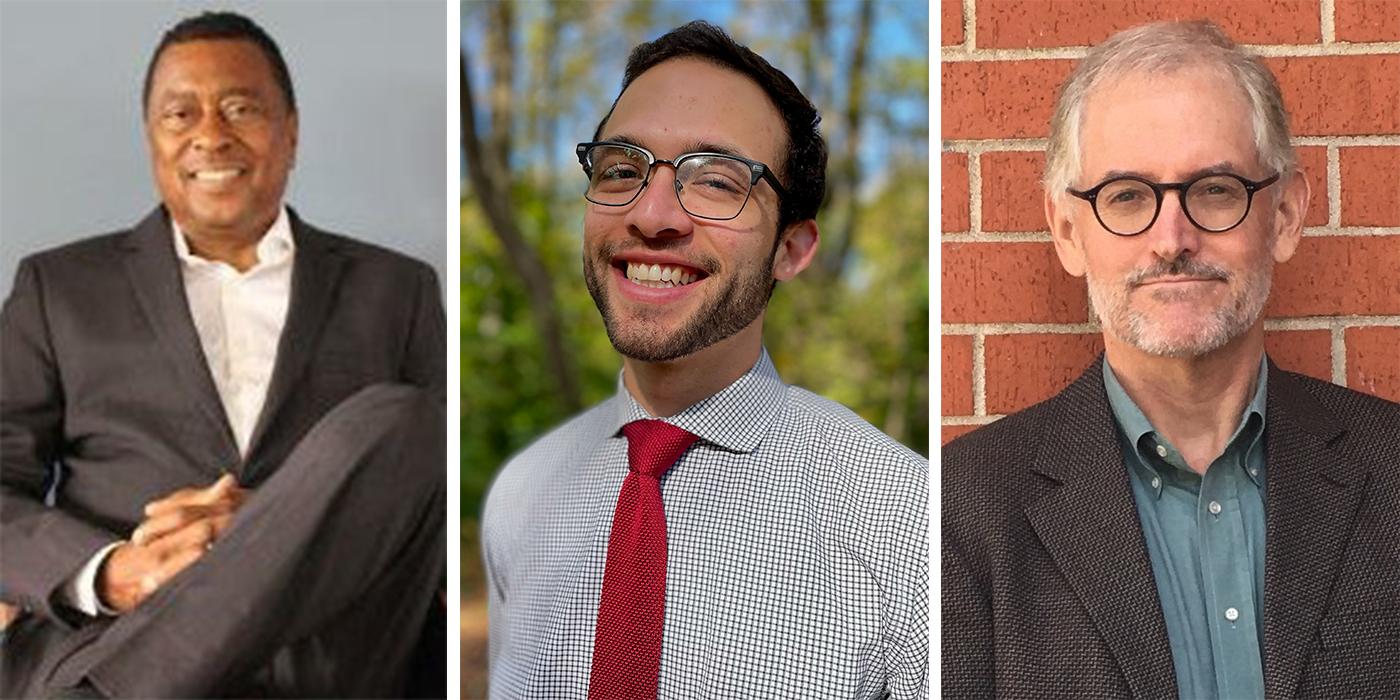 COLLEGE PARK -- The University of Maryland Philip Merrill College of Journalism has made three exciting additions to its faculty and staff, Dean Lucy Dalglish announced Tuesday. The college named veteran journalist and educator Ron Harris its next Capital News Service Annapolis bureau chief, Aaron Guillermo Vogel its first diversity and inclusion program coordinator, and Dr. Rob Wells a visiting associate professor.
Harris brings more than 30 years of high-level journalism experience to Merrill College, and joins the faculty after more than a decade at Howard University. Most recently, he was managing editor of Howard University News Service and an adjunct professor, after five years as the university's director of communications. He spent this past summer working as a visiting editor on the UMD Howard Center for Investigative Journalism's "Printing Hate" project.
Before Howard, Harris was an award-winning reporter, columnist and editor at the St. Louis Post-Dispatch, the Los Angeles Times and Ebony Magazine. Harris will begin at the start of the Spring 2022 semester, replacing Karen Denny, who takes over as the college's director of internships and career development.
"Ron brings experience as a journalist and teacher to our Annapolis bureau," Dalglish said. "His experience teaching laboratory reporting classes will be key to his success at Merrill College. It was a joy to work with him as a visiting professional on the Howard Center's 'Printing Hate' project during summer 2021."
Vogel arrives at Merrill after completing his master's degree in Education and Human Development in the Field of Higher Education Administration at The George Washington University. 
He has more than six years of diversity, equity and inclusion programming experience with GWU's athletics department, The Posse Foundation -- which helps colleges and universities recruit students from diverse backgrounds and then build inclusive environments once they arrive -- and AmeriCorps VISTA. Vogel began Nov. 8.
"Aaron has worked on DEI programming at both a university and at nonprofits," Dalglish said. "He has great ideas for helping to make Merrill College more inclusive and welcoming to faculty, students and staff."
Wells, a 2016 Ph.D. alum of Merrill, returns to the university in the Spring 2022 semester after more than five years at the University of Arkansas, where he rose to the rank of associate professor and led Arkansas' journalism graduate program. 
He brings another dimension to the Merrill faculty with more than two decades of business journalism experience at The Associated Press, Bloomberg News and The Wall Street Journal. 
While at Arkansas, Wells partnered with Merrill's Howard Center on multiple projects, including the award-winning "Nowhere To Go" homelessness investigation. He is the author of "The Enforcers: How Little-Known Trade Reporters Exposed the Keating Five and Advanced Business Journalism" (University of Illinois Press, 2019), and a forthcoming book on business journalist Willard Kiplinger, expected to be published in 2022. While working on his doctorate at Merrill, Wells created a business reporting capstone class. During the 2011-12 school year, he helped launch a business reporting program at the University of South Carolina while serving as a Reynolds Visiting Business Journalism Professor. 
"We are excited to welcome Rob back to Merrill College," Dalglish said. "He will be a valuable scholar-teacher on our faculty. As a doctoral student, Rob taught capstone classes, including one that investigated a senior living company that spurred Maryland's attorney general to investigate and bring criminal charges against the owner. He has a demonstrated history of teaching journalism students how to make a difference."
For more information, contact:
Josh Land
joshland@umd.edu
301-405-1321