COLLEGE PARK — Christine Brennan, an award-winning national sports columnist for USA Today, has been named the winner of the 2022 Sam Lacy-Wendell Smith Award.
Brennan was selected by a committee appointed by the The Shirley Povich Center for Sports Journalism at the University of Maryland's Philip Merrill College of Journalism. Those members, who also serve on the Povich Center Advisory Board, are committee chair David Steele, Roxanna Scott, Monica McNutt and Robert Klemko.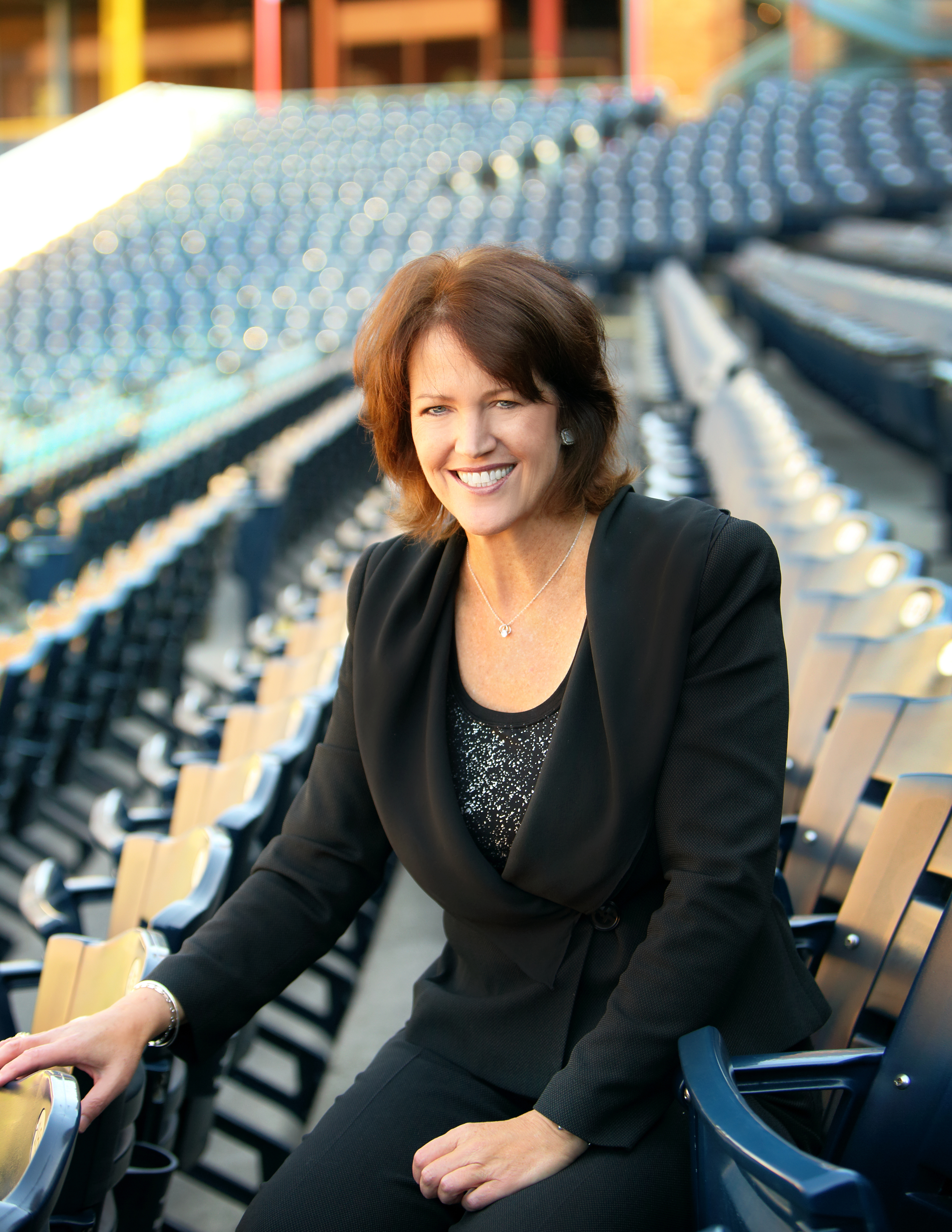 "We recognized immediately that Christine met the high standards of our previous winners," Steele said. "She has been a great colleague, supporter and friend to so many of us in the industry, especially to those who have fought the same battles against racism, sexism, misogyny and outright oppression and abuse, in our coverage and in our newsrooms."
Established in 2015, the Lacy-Smith Award is presented annually to a sports journalist or broadcaster who has made significant contributions to racial and gender equality in sports. Past winners are Claire Smith (2015), James Brown (2016), William Rhoden (2017), Michael Wilbon (2018), Bob Costas (2019) and John Smallwood (2021).
"This is such a wonderful honor," Brennan said. "I've been in awe of the brave and important work of Sam Lacy and Wendell Smith for many years. I also have great respect for my friends and colleagues who have continued that work, the six previous Lacy-Smith winners. To join them is incredibly humbling." 
Brennan was the first woman sports writer at The Miami Herald in 1981 and the first woman to cover the Washington Football Team as a staff writer at The Washington Post in 1985. She was the first president of the Association for Women in Sports Media (AWSM) and started an internship-scholarship program that has supported 200 female students during the past two decades. 
The Povich Center will present the award to Brennan during the 17th Annual Povich Symposium on Nov. 15.
"When I think of principled, fearless sports journalists, I think of Christine Brennan," Povich Center Director Mark Hyman said. "No one has done more to expose discrimination in sports. She is a true champion for equity and inclusion."
In addition to her work for USA Today, Brennan serves as a commentator for CNN, ABC News, PBS NewsHour and NPR. She is the author of seven books, including "Best Seat in the House," the only father-daughter memoir written by a sports journalist. She has covered the last 20 Olympic Games and was named the winner of the Red Smith Award in 2020.
"There could not be a more deserving recipient of the Lacy-Smith Award. Christine has been a crusading journalist for decades, always condemning racism where it exists and recognizing advances when they occur," said Maury Povich, son of Shirley Povich, for whom the center is named. "And besides, Shirley loved Christine for her work and her character.
ABOUT SAM LACY AND WENDELL SMITH
Sam Lacy and Wendell Smith spent much of their journalism careers advocating for fairness, equality and justice in sports, including reporting, columnizing and lobbying for the integration of modern-day Major League Baseball.
Lacy worked at his craft for more than 80 years, primarily as sports editor of the Baltimore Afro-American. He was the first African-American member of the Baseball Writers' Association of America (BBWAA). Lacy died in 2003, at the age of 99. Smith covered the Negro Leagues for a number of newspapers, including the Pittsburgh Courier, The Chicago Defender and Chicago Herald-American. 
For many years, Lacy and Smith attended MLB meetings where they worked from hotel lobbies interviewing owners and writing columns about the need for integration. Lacy and Smith were each honored by the Associated Press Sports Editors (APSE) for their lifelong contributions to sports journalism with the Red Smith Award — Lacy in 1998 and Smith in 2014.
ABOUT THE POVICH CENTER
The Shirley Povich Center for Sports Journalism prepares students to be innovators and leaders in all facets of sports media. The center's unique, experiential curriculum and public programs elevate and amplify discussion of race, gender, politics and the world — just as Shirley Povich did each morning in The Washington Post.