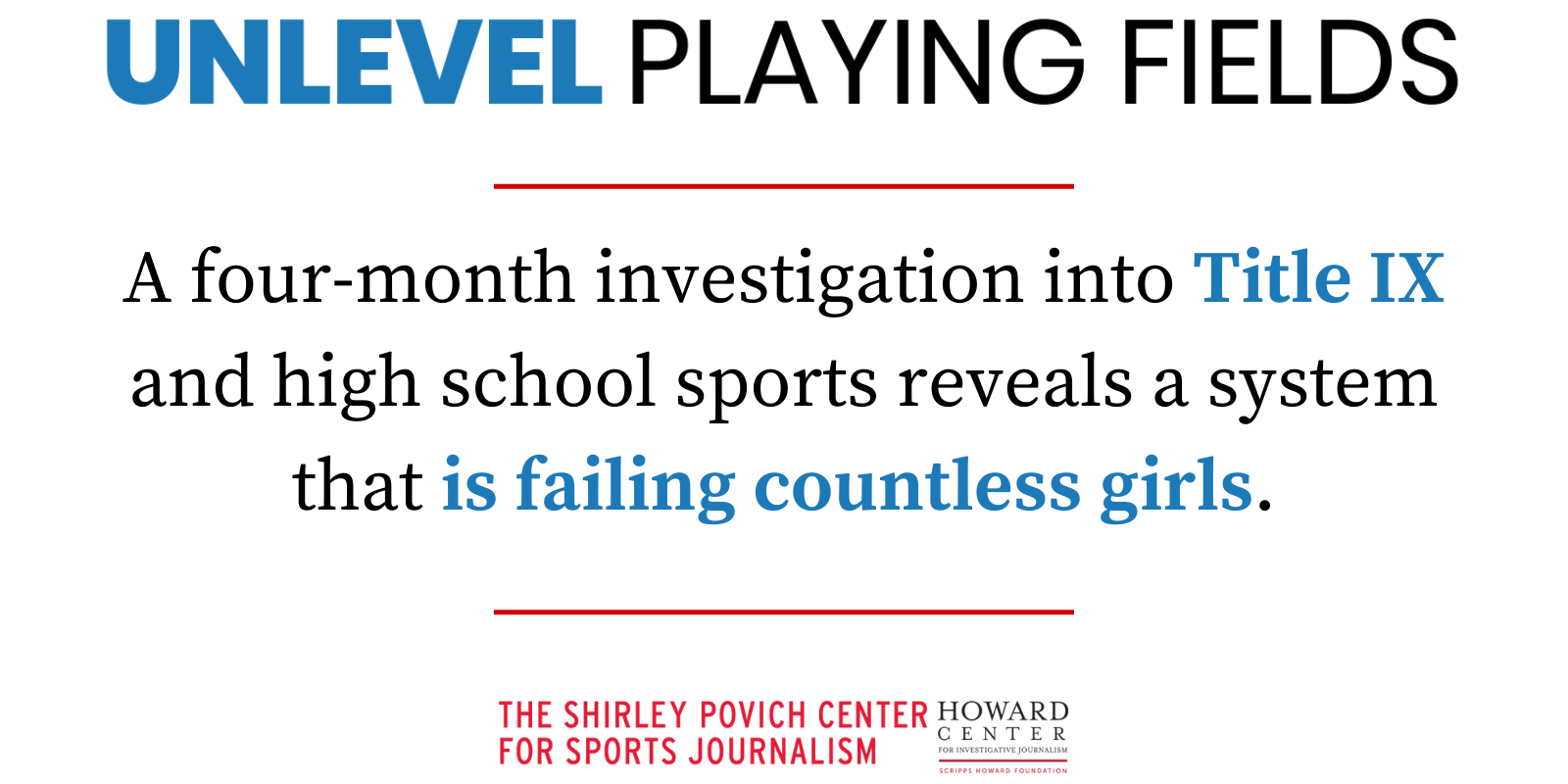 COLLEGE PARK – The Shirley Povich Center for Sports Journalism and the Howard Center for Investigative Journalism at the University of Maryland on Monday published "Unlevel Playing Fields," an in-depth investigation into Title IX and high school sports ahead of the landmark legislation's 50th anniversary in June. 
Title IX, which passed in 1972, is a federal law that prohibits sex-based discrimination at any school that receives funding from the federal government, including in sports programs. 
While Title IX has led to a significant increase in girls playing scholastic sports, it has fallen short of achieving equity for high school girls in areas such as facilities, equipment, scheduling and publicity, the four-month, student-led investigation found.
"Our hope is that the Title IX investigation will change the conversation about gender equity in high school sports," Povich Center Director Mark Hyman said. "There haven't been many – or any – reporting projects on the subject that have gone as deep. Many Merrill College colleagues contributed to the effort. Mostly, this investigation reflects the outstanding work of our students."
Students from Hyman's "Title IX and Gender Equity" capstone, Abell Professor Sandy Banisky's Urban Affairs Reporting course and the Howard Center came together to produce a package that includes 12 text stories, several video pieces, and a national poll of high school parents and their student-athletes to measure awareness of Title IX.
"Unlevel Playing Fields" was published by the UMD Philip Merrill College of Journalism's Capital News Service at https://cnsmaryland.org/titleix/
The project was done in collaboration with PBS NewsHour, which aired its Title IX segment during Monday's newscast. PBS NewsHour, The Associated Press, Just Women's Sports and Word In Black will also publish parts of the project.
Student reporters found: 
Title IX and high school athletics aren't aggressively monitored by state or federal government officials. It's mostly up to the 3.4 million girls playing high school sports in the U.S. and their parents to report violations.

Most parents, students and even school officials aren't well-informed about the law. 

Title IX enforcement protocols are slow-moving. Girls who report Title IX violations often graduate from their high school teams before they see results. 
"This was the most ambitious collaboration between the Povich Center and the Howard Center,'' Howard Center Director Kathy Best said. "Based on the quality of this project, I'm ​​sure we will continue to work together in the future. Sports is a rich vein to mine for investigations.''
On Thursday at 7 p.m., the Povich Center will host a virtual panel discussion about the findings of "Unlevel Playing Fields," featuring sources whose experiences are detailed in the package, a Title IX advocate and Merrill College students who worked on the project. Register at go.umd.edu/TitleIX
The Povich and Howard centers also intend to share their findings with a workshop intended for high schoolers to help educate about Title IX, how to recognize violations and how to report those inequities to affect change.
For more information, contact:
Josh Land
joshland@umd.edu
301-405-1321